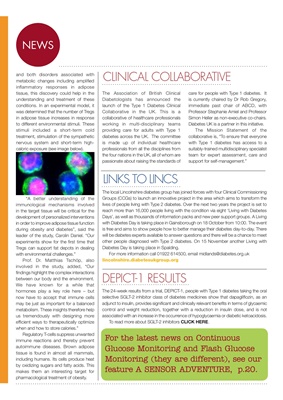 NEWS
CLINICAL COLLABORATIVE
and both disorders associated with
metabolic changes including amplified
inflammatory responses in adipose
tissue, this discovery could help in the
understanding and treatment of these
conditions. In an experimental model, it
was determined that the number of Tregs
in adipose tissue increases in response
to different environmental stimuli. These
stimuli included a short-term cold
treatment, stimulation of the sympathetic
nervous system and short-term highcaloric exposure
(see image).
The Association of British Clinical
Diabetologists has announced the
launch of the Type 1 Diabetes Clinical
Collaborative in the UK. This is a
collaborative of healthcare professionals
working in multi-disciplinary teams
providing care for adults with Type 1
diabetes across the UK. The committee
is made up of individual healthcare
professionals from all the disciplines from
the four nations who are passionate about
raising the standards of care for people
with Type 1 diabetes. It is currently chaired
by Dr Rob Gregory, immediate past chair
of ABCD, with Professor Stephanie Amiel
and Professor Simon Heller as nonexecutive
co-chairs. Diabetes UK is a
partner in this initiative.
The Mission Statement of the
collaborative is, "To ensure that everyone
with Type 1 diabetes has access to a
suitably-trained multidisciplinary specialist
team for expert assessment, care and
support for self-management."
The local Lincolnshire diabetes group has joined forces with four Clinical Commissioning
Groups (CCGs) to launch an innovative project in the area which aims to transform the
lives of people living with Type 2 diabetes. Over the next two years the project is set to
reach more than 16,000 people living with the condition via eight 'Living with Diabetes
Days', as well as thousands of information packs and new peer support groups. A Living
with Diabetes Day is taking place in Gainsborough on 18 October from 10:00. The event
is free and aims to show people how to better manage their diabetes day-to-day. There
will be diabetes experts available to answer questions and there will be a chance to meet
other people diagnosed with Type 2 diabetes. On 15 November another Living with
Diabetes Day is taking place in Spalding.
For more information call 01922 614500, email midlands@diabetes.org.uk
lincolnshire.diabetesukgroup.org
The 24-week results from a trial, DEPICT-1, people with Type 1 diabetes taking the oral
selective SGLT-2 inhibitor class of diabetes medicines show that dapagliflozin, as an
adjunct to insulin, provides significant and clinically relevant benefits in terms of glycaemic
control and weight reduction, together with a reduction in insulin dose, and is not
associated with an increase in the occurrence of hypoglycaemia or diabetic ketoacidosis.
To read more about SGLT-2 inhibitors CLICK HERE.
LINKS TO LINCS
DEPICT-1 RESULTS
"A better understanding of the
immunological mechanisms involved
in the target tissue will be critical for the
development of personalized interventions
in order to improve adipose tissue function
during obesity and diabetes", said the
leader of the study, Carolin Daniel. "Our
experiments show for the first time that
Tregs can support fat depots in dealing
with environmental challenges."
Prof. Dr. Matthias Tschöp, also
involved in the study, added, "Our
findings highlight the complex interactions
between our body and the environment.
We have known for a while that
hormones play a key role here - but
now have to accept that immune cells
may be just as important for a balanced
metabolism. These insights therefore help
us tremendously with designing more
efficient ways to therapeutically optimize
when and how to store calories."
Regulatory T-cells suppress unwanted
immune reactions and thereby prevent
autoimmune diseases. Brown adipose
tissue is found in almost all mammals,
including humans. Its cells produce heat
by oxidizing sugars and fatty acids. This
makes them an interesting target for
pharmacological treatment of obesity.
For the latest news on Continuous
Glucose Monitoring and Flash Glucose
Monitoring (they are different), see our
feature A SENSOR ADVENTURE, p.20.