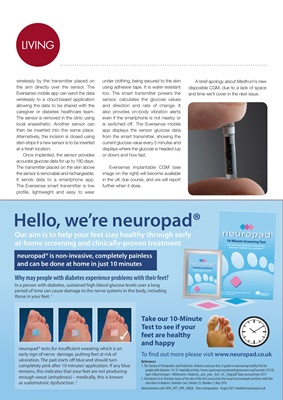 LIVINGLIVING
Hello, we're neuropad®
Our aim is to help your feet stay healthy through early
at-home screening and clinically-proven treatment
neuropad® is non-invasive, completely painless
and can be done at home in just 10 minutes
References
1. The Society of Chiropodists and Podiatrists. Diabetes and your feet; A guide to maintaining healthy feet for
people with diabetes: 16-19. Available at http://www.scpod.org/easysiteweb/getresource.axd?assetid=3512&
type=0&servicetype=1&fi lename=/Diabetes_and_your _feet_A5_24pp.pdf. Date accessed June 2017
2. Tentolouris et al. Moisture status of the skin of the feet assessed by the visual test neumedinfo@neuropad.co.ukfoot
ulceration in diabetes. Diabetes Care, Volume 33, Number 5, May 2010.
Advertisement code SKYR_NPT_HPA_0002b Date of preparation August 2017 medinfo@neuropad.co.uk
To fi nd out more please visit www.neuropad.co.uk
Take our 10-Minute
Test to see if your
feet are healthy
and happy
e
Why may people with diabetes experience problems with their feet?
In a person with diabetes, sustained high blood glucose levels over a long
period of time can cause damage to the nerve systems in the body, including
those in your feet. 1
neuropad® tests for insuffi cient sweating which is an
early sign of nerve damage, putting feet at risk of
ulceration. The pad starts off blue and should turn
completely pink after 10 minutes' application. If any blue
remains, this indicates that your feet are not producing
enough sweat (anhydrosis) - medically, this is known
as sudomotoric dysfunction. 2
✓
created 3-5 mm under the skin into which
the sensor is inserted using a special
insertion tool. The insertion is then closed
with steri-strips.
The implanted sensor (see image on
the right) is powered wirelessly by the
transmitter placed on the arm directly over
the sensor. The Eversense mobile app
can send the data wirelessly to a cloudbased application allowing the data to
be shared with the caregiver or diabetes
healthcare team. The sensor is removed in
the clinic using local anaesthetic. Another
sensor can then be inserted into the same
place. Alternatively, the incision is closed
using steri-strips if a new sensor is to be
inserted at a fresh location.
Once implanted, the implantable
Eversense sensor provides accurate
glucose data for up to 180 days. The
transmitter placed on the skin above the
sensor is removable and rechargeable.
It sends data to a smartphone app.
The Eversense smart transmitter is low
profile, lightweight and easy to wear
under clothing, being secured to the skin
using adhesive tape. It is water resistant
too. The smart transmitter powers the
sensor, calculates the glucose values
and direction and rate of change. It also
provides on-body vibration alerts even
the smartphone is not nearby or switched
off. The Eversense mobile app displays
the sensor glucose data from the smart
transmitter, displaying the current glucose
value every 5 minutes and displays where
the glucose is headed and how fast.
Eversense implantable CGM will
become available in due course, and we
will we report further when it is available.