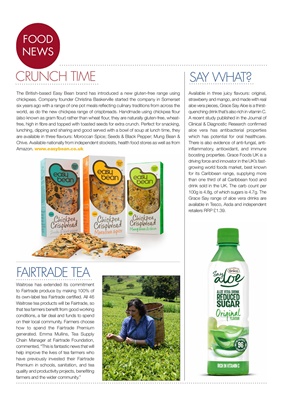 LIVINGLIVING
FOOD
NEWS
SAY WHAT?
The British-based Easy Bean brand has introduced a new gluten-free range using
chickpeas. Company founder Christina Baskerville started the company in Somerset
six years ago with a range of one pot meals reflecting culinary traditions from across the
world, as do the new chickpea range of crispbreads. Handmade using chickpea flour
(also known as gram flour) rather than wheat flour, they are naturally gluten-free, wheatfree,
high in fibre and topped with toasted seeds for extra crunch. Perfect for snacking,
lunching, dipping and sharing and good served with a bowl of soup at lunch time, they
are available in three flavours: Moroccan Spice; Seeds & Black Pepper; Mung Bean &
Chive. Available nationally from independent stockists, health food stores as well as from
Amazon. www.easybean.co.uk
CRUNCH TIME
Available in three juicy flavours: original,
strawberry and mango, and made with real
aloe vera pieces, Grace Say Aloe is a thirstquenching
drink that's also rich in vitamin C.
A recent study published in the Journal of
Clinical & Diagnostic Research confirmed
aloe vera has antibacterial properties
which has potential for oral healthcare.
There is also evidence of anti-fungal, antiinflammatory,
antioxidant, and immune
boosting properties. Grace Foods UK is a
driving force and innovator in the UK's fastgrowing
world foods market, best known
for its Caribbean range, supplying more
than one third of all Caribbean food and
drink sold in the UK. The carb count per
100g is 4.8g, of which sugars is 4.7g. The
Grace Say range of aloe vera drinks are
available in Tesco, Asda and independent
retailers RRP £1.39.
FAIRTRADE TEA
Waitrose has extended its commitment
to Fairtrade produce by making 100% of
its own-label tea Fairtrade certified. All 46
Waitrose tea products will be Fairtrade, so
that tea farmers benefit from good working
conditions, a fair deal and funds to spend
on their local community. Farmers choose
how to spend the Fairtrade Premium
generated. Emma Mullins, Tea Supply
Chain Manager at Fairtrade Foundation,
commented, "This is fantastic news that will
help improve the lives of tea farmers who
have previously invested their Fairtrade
Premium in schools, sanitation, and tea
quality and productivity projects, benefiting
farmers and the wider community."