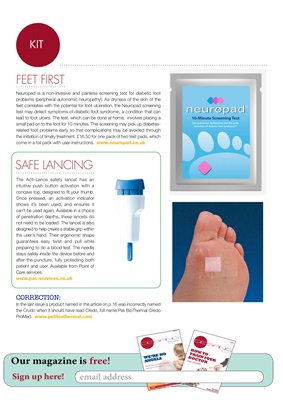 LIVINGLIVINGKIT
FEET FIRST
ISSUE 30
MAGAZINE
DESANG
PLUS • New Products • Groovy giveaways • News (for T1 and T2)
WE'RE NO
ANGELS
But business as usual is best for
diabetics at Christmas
MAKING
CARBS COUNT:
CHESTNUTS ROASTING
ON OPEN FIRES
Our magazine is free!
Sign up here! email address
Neuropad is a non-invasive and painless screening test for diabetic foot
problems (peripheral autonomic neuropathy). As dryness of the skin of the
feet correlates with the potential for foot ulceration, the Neuropad screening
test may detect symptoms of diabetic foot syndrome, a condition that can
lead to foot ulcers. The test, which can be done at home, involves placing a
small pad on to the foot for 10 minutes. This screening may pick up diabetesrelated
foot problems early so that complications may be avoided through
the initiation of timely treatment. £16.50 for one pack of two test pads, which
come in a foil pack with user instructions. www.neuropad.co.uk
The Acti-Lance safety lancet has an
intuitive push button activation with a
concave top, designed to fit your thumb.
Once pressed, an activation indicator
shows it's been used, and ensures it
can't be used again. Available in a choice
of penetration depths, these lancets do
not need to be loaded. The lancet is also
designed to help create a stable grip within
the user's hand. Their ergonomic shape
guarantees easy twist and pull while
preparing to do a blood test. The needle
stays safely inside the device before and
after the puncture, fully protecting both
patient and user. Available from Point of
Care services.
SAFE LANCING
CORRECTION:
In the last issue a product named in the article on p.16 was incorrectly named
the Crudo when it should have read Credo, full name Peli BioThermal Credo
ProMed. www.pelibiothermal.com