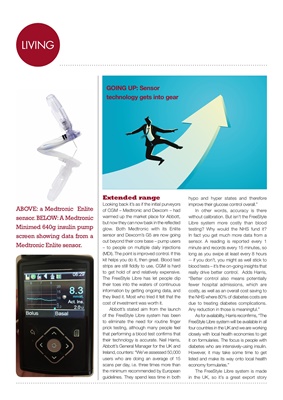 LIVINGLIVING
ABOVE: a Medtronic Enlite
sensor. BELOW: A Medtronic
Minimed 640g insulin pump
screen showing data from a
Medtronic Enlite sensor.
And it has to be said that Abbott's middle
road has had considerable uptake due to
being rather fun and easy to use.
Extended range
Looking back it's as if the initial purveyors
of CGM - Medtronic and Dexcom - had
warmed up the market place for Abbott,
but now they can now bask in the reflected
glow. Both Medtronic with its Enlite
sensor and Dexcom's G5 are now going
out beyond their core base - pump users
- to people on multiple daily injections
(MDI). The point is improved control. If this
kit helps you do it, then great. Blood test
strips are still fiddly to use, CGM is hard
to get hold of and relatively expensive.
The FreeStyle Libre has let people dip
their toes into the waters of continuous
information by getting ongoing data,
and they liked it. Most felt that the cost
investment was worth it.
Abbott's stated aim from the launch
of the FreeStyle Libre system has been to
eliminate the need for routine finger prick
testing, although many people feel that
performing a blood test confirms that their
technology is accurate. Harris counters,
"We've assessed 50,000 users who are
doing an average of 15 scans per day,
i.e. three times more than the minimum
recommended by European guidelines.
They spend less time is in both hypo and
hyper states and therefore improve their
glucose control overall."
In other words, accuracy is there
without calibration. But isn't the FreeStyle
Libre system more costly than blood
testing? Why would the NHS fund it?
In fact you get much more data from a
sensor. A reading is reported every 1
minute and records every 15 minutes, so
long as you swipe at least every 8 hours
-- if you don't, you might as well stick to
blood tests - it's the on-going insights that
really drive better control. Adds Harris,
"Better control also means potentially
fewer hospital admissions, which are
costly, as well as an overall cost saving to
the NHS where 80% of diabetes costs are
due to treating diabetes complications.
Any reduction in those is meaningful."
As for availability, Harris reconfirms,
"The FreeStyle Libre system will be
available in all four countries in the UK
and we are working closely with local
GOING UP: Sensor
technology gets into gear