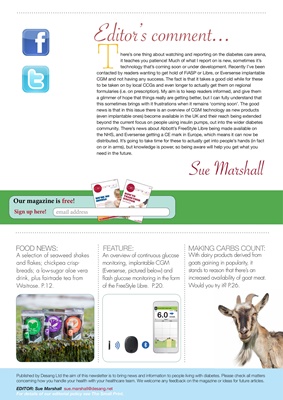 Published by Desang Ltd the aim of this newsletter is to bring news and information to people living with diabetes. Please check all matters
concerning how you handle your health with your healthcare team. We welcome any feedback on the magazine or ideas for future articles.
EDITOR: Sue Marshall sue.marshall@desang.net
For details of our editorial policy see The Small Print.
A selection of seaweed shakes
and flakes; checkpea crispbreads; a low-sugar aloe vera
drink, plus fairtrade teafrom
Waitrose. P.12.
Sue Marshall
With dairy products derived from
goats gaining in popularity, it
stands to reason that there's an
increased availability of goat meat.
Would you try it? P.26.
There's one thing about watching and reporting on the diabetes care arena,
it teaches you patience! Much of what I report on is new, sometimes it's
technology that's coming soon or under development. Recently I've been
contacted by readers wanting to get hold of FiASP or Libre, or Eversense implantable
CGM and not having any success. The fact is that it takes a good old while for these
to be taken on by local CCGs and even longer to actually get them on regional
formularies (i.e. on prescription). My aim is to keep readers informed, and give them
a glimmer of hope that things really are getting better, but I can fully understand that
this sometimes brings with it frustrations when it remains 'coming soon'. The good
news is that in this issue there is an overview of CGM technology as new products
(even implantable ones) become available in the UK and their reach being extended
beyond the current focus on people using insulin pumps, out into the wider diabetes
community. There's news about Abbott's FreeStyle Libre being made available on
the NHS, and Eversense getting a CE mark in Europe, which means it can now be
distributed. It's going to take time for these to actually get into people's hands (in fact
on or in arms), but knowledge is power, so being aware will help you get what you
need in the future.
Editor's comment...
ISSUE 30
MAGAZINE
DESANG
PLUS • New Products • Groovy giveaways • News (for T1 and T2)
WE'RE NO
ANGELS
But business as usual is best for
diabetics at Christmas
MAKING
CARBS COUNT:
CHESTNUTS ROASTING
ON OPEN FIRES
Our magazine is free!
Sign up here! email address
FEATURE:
An overview of continuous glucose
monitoring, implantable CGM
(Eversense, pictured below) and
flash glucose monitoring in the form
of the FreeStyle Libre. P.20.
FOOD NEWS: MAKING CARBS COUNT: