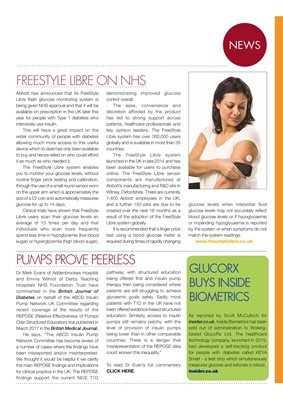 NEWS
FREESTYLE LIBRE ON NHS
Abbott has announced that its FreeStyle
Libre flash glucose monitoring system is
being given NHS approval and that it will be
available on prescription in the UK later this
year for people with Type 1 diabetes who
intensively use insulin.
This will have a great impact on the
wider community of people with diabetes
allowing much more access to this useful
device which to date has only been available
to buy and hence relied on who could afford
it as much as who needed it.
The FreeStyle Libre system enables
you to monitor your glucose levels, without
routine finger prick testing and calibration*,
through the use of a small round sensor worn
on the upper arm which is approximately the
size of a £2 coin and automatically measures
glucose for up to 14 days.
Clinical trials have shown that FreeStyle
Libre users scan their glucose levels an
average of 15 times per day and that
individuals who scan more frequently
spend less time in hypoglycemia (low blood
sugar) or hyperglycemia (high blood sugar),
Dr Mark Evans of Addenbrookes Hospital
and Emma Wilmot of Derby Teaching
Hospitals NHS Foundation Trust have
commented in the British Journal of
Diabetes on behalf of the ABCD Insulin
Pump Network UK Committee regarding
recent coverage of the results of the
REPOSE (Relative Effectiveness of Pumps
Over Structured Education) trial published in
March 2017 in the British Medical Journal.
He says, "The ABCD Insulin Pump
Network Committee has become aware of
a number of cases where the findings have
been misreported and/or misinterpreted.
We thought it would be helpful if we clarify
the main REPOSE findings and implications
for clinical practice in the UK. The REPOSE
findings support the current NICE T1D
PUMPS PROVE PEERLESS
pathway, with structured education
being offered first and insulin pump
therapy then being considered where
patients are still struggling to achieve
glycaemic goals safely. Sadly, most
patients with T1D in the UK have not
been offered evidence-based structured
education. Similarly, access to insulin
pumps still remains patchy, with the
level of provision of insulin pumps
being lower than in other comparable
countries. There is a danger that
misrepresentation of the REPOSE data
could worsen this inequality."
To read Dr Evan's full commentary
CLICK HERE.
demonstrating improved glucose
control overall.
The ease, convenience and
discretion afforded by the product
has led to strong support across
patients, healthcare professionals and
key opinion leaders. The FreeStyle
Libre system has over 300,000 users
globally and is available in more than 35
countries.
The FreeStyle Libre system
launched in the UK in late 2014 and has
been available for users to purchase
online. The FreeStyle Libre sensor
components are manufactured at
Abbott's manufacturing and R&D site in
Witney, Oxfordshire. There are currently
1,400 Abbott employees in the UK,
and a further 150 jobs are due to be
created over the next 18 months as a
result of the adoption of the FreeStyle
Libre system globally.
It is recommended that a finger prick
test using a blood glucose meter is
required during times of rapidly changing
glucose levels when interstitial fluid
glucose levels may not accurately reflect
blood glucose levels or if hypoglycaemia
or impending hypoglycaemia is reported
by the system or when symptoms do not
match the system readings.
As reported by Scott McCulloch for
Insider.co.uk, Inside Biometrics has been
sold out of administration to Wokingbased
GlucoRx Ltd. The healthcare
technology company, launched in 2015,
had developed a self-tracking products
for people with diabetes called KEYA
Smart - a test strip which simultaneously
measures glucose and ketones in blood.
insider.co.uk
GLUCORX
BUYS INSIDE
BIOMETRICS