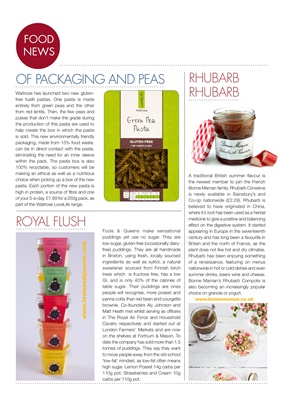 LIVINGLIVING
FOOD
NEWS
OF PACKAGING AND PEAS
ROYAL FLUSH
Waitrose has launched two new glutenfree
fusilli pastas. One pasta is made
entirely from green peas and the other
from red lentils. Then, the few peas and
pulses that don't make the grade during
the production of this pasta are used to
help create the box in which the pasta
is sold. This new environmentally friendly
packaging, made from 15% food waste,
can be in direct contact with the pasta,
eliminating the need for an inner sleeve
within the pack. The pasta box is also
100% recyclable, so customers will be
making an ethical as well as a nutritious
choice when picking up a box of the new
pasta. Each portion of the new pasta is
high in protein, a source of fibre and one
of your 5-a-day. £1.99 for a 250g pack, as
part of the Waitrose LoveLife range.
RHUBARB
RHUBARB
A traditional British summer flavour is
the newest member to join the French
Bonne Maman family. Rhubarb Conserve
is newly available in Sainsbury's and
Co-op nationwide (£2.29). Rhubarb is
believed to have originated in China,
where it's root has been used as a herbal
medicine to give a positive and balancing
effect on the digestive system. It started
appearing in Europe in the seventeenth
century and has long been a favourite in
Britain and the north of France, as the
plant does not like hot and dry climates.
Rhubarb has been enjoying something
of a renaissance, featuring on menus
nationwide in hot or cold dishes and even
summer drinks, beers wine and cheese.
Bonne Maman's Rhubarb Compote is
also becoming an increasingly popular
choice on granola or yogurt.
Fools & Queens make sensational
puddings yet use no sugar. They are
low-sugar, gluten-free (occasionally dairyfree)
puddings. They are all handmade
in Brixton, using fresh, locally sourced
ingredients as well as xylitol, a natural
sweetener sourced from Finnish birch
trees which is fructose free, has a low
GI, and is only 40% of the calories of
table sugar. Their puddings are ones
people will recognise, more posset and
panna cotta than red bean and courgette
brownie. Co-founders Aly Johnson and
Matt Heath met whilst serving as officers
in The Royal Air Force and Household
Cavalry respectively and started out at
London Farmers' Markets and are now
on the shelves at Fortnum & Mason. To
date the company has sold more than 1.5
tonnes of puddings. They say they want
to move people away from the old-school
'low-fat' mindset, as low-fat often means
high sugar. Lemon Posset 14g carbs per
110g pot; Strawberries and Cream 10g
carbs per 110g pot.