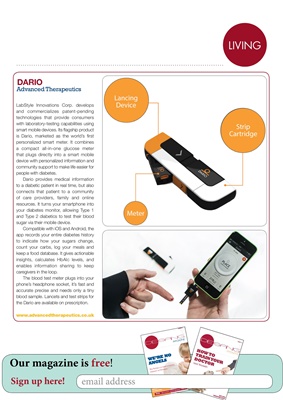 KITLIVING
ISSUE 30
MAGAZINE
DESANG
PLUS • New Products • Groovy giveaways • News (for T1 and T2)
WE'RE NO
ANGELS
But business as usual is best for
diabetics at Christmas
MAKING
CARBS COUNT:
CHESTNUTS ROASTING
ON OPEN FIRES
Our magazine is free!
Sign up here! email address
DARIO
Advanced Therapeutics
LabStyle Innovations Corp. develops
and commercializes patent-pending
technologies that provide consumers
with laboratory-testing capabilities using
smart mobile devices. Its flagship product
is Dario, marketed as the world's first
personalized smart meter. It combines
a compact all-in-one glucose meter
that plugs directly into a smart mobile
device with personalized information and
community support to make life easier for
people with diabetes.
Daario provides medical information
to a diabetic patient in real time, but also
connects that patient to a community
of care providers, family and online
resources. It turns your smartphone into
your diabetes monitor, allowing Type 1
and Type 2 diabetics to test their blood
sugar via their mobile device.
Compatible with iOS and Android, the
app records your entire diabetes history
to indicate how your sugars change,
count your carbs, log your meals and
keep a food database. It gives actionable
insights, calculates HbAIc levels, and
enables information sharing to keep
caregivers in the loop.
It plugs into your phone's headphone
socket, it's fast and accurate precise and
needs only a tiny blood sample. Lancets
and Test Strips for the Dario are available
on prescription.