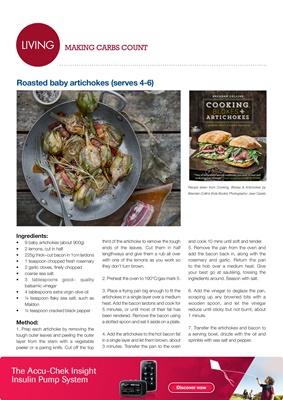 LIVINGLIVING
Roasted baby artichokes (serves 4-6)
Ingredients:
• 9 baby artichokes (about 900g)
• 2 lemons, cut in half
• 225g thick−cut bacon in 1cm lardons
• 1 teaspoon chopped fresh rosemary
• 2 garlic cloves, finely chopped
• coarse sea salt
• 3 tablespoons good− quality
balsamic vinegar
• 4 tablespoons extra virgin olive oil
• ¼ teaspoon flaky sea salt, such as
Maldon
• ¼ teaspoon cracked black pepper
Method:
1. Prep each artichoke by removing the
tough outer leaves and peeling the outer
layer from the stem with a vegetable
peeler or a paring knife. Cut off the top
MAKING CARBS COUNT
third of the artichoke to remove the tough
ends of the leaves. Cut them in half
lengthways and give them a rub all over
with one of the lemons as you work so
they don't turn brown.
2. Preheat the oven to 190°C/gas mark 5.
3. Place a frying pan big enough to fit the
artichokes in a single layer over a medium
heat. Add the bacon lardons and cook for
5 minutes, or until most of their fat has
been rendered. Remove the bacon using
a slotted spoon and set it aside on a plate.
4. Add the artichokes to the hot bacon fat
in a single layer and let them brown, about
3 minutes. Transfer the pan to the oven
Recipe taken from Cooking, Blokes & Artichokes by
Brendan Collins (Kyle Books) Photography: Jean Cazals
and cook 10 mins until soft and tender.
5. Remove the pan from the oven and
add the bacon back in, along with the
rosemary and garlic. Return the pan
to the hob over a medium heat. Give
your best go at sautéing, tossing the
ingredients around. Season with salt.
6. Add the vinegar to deglaze the pan,
scraping up any browned bits with a
wooden spoon, and let the vinegar
reduce until sticky but not burnt, about
1 minute.
7. Transfer the artichokes and bacon to
a serving bowl, drizzle with the oil and
sprinkle with sea salt and pepper.