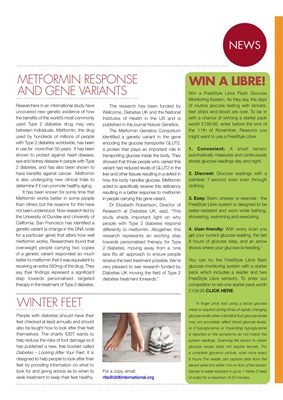 NEWS
WIN A LIBRE!
Win a FreeStyle Libre Flash Glucose
Monitoring System. As they say, the days
of routine glucose testing with lancets,
test strips and blood are over. To be in
with a chance of winning a starter pack
worth £159.95, enter before the end of
the 11th of November. Reasons you
might want to use a FreeStyle Libre:
1. Convenient: A small sensor
automatically measures and continuously
stores glucose readings day and night.
2. Discreet: Glucose readings with a
painless 1-second scan even through
clothing.
3. Easy: Swim, shower or exercise - the
FreeStyle Libre system is designed to be
water-resistant and worn while bathing,
showering, swimming and exercising.
4. User-friendly: With every scan you
get your current glucose reading, the last
8 hours of glucose data, and an arrow
shows where your glucose is heading.*
You can try the FreeStyle Libre flash
glucose monitoring system with a starter
pack which includes a reader and two
FreeStyle Libre sensors. To enter our
competition to win one starter pack worth
£159.95 CLICK HERE.
*A finger prick test using a blood glucose
meter is required during times of rapidly changing
glucose levels when interstitial fluid glucose levels
may not accurately reflect blood glucose levels,
or if hypoglycemia or impending hypoglycemia
is reported or the symptoms do not match the
system readings. Scanning the sensor to obtain
glucose values does not require lancets. For
a complete glycemic picture, scan once every
8 hours.The reader can capture data from the
sensor when it is within 1cm to 4cm of the sensor.
Sensor is water-resistant in up to 1 metre (3 feet)
of water for a maximum of 30 minutes.
METFORMIN RESPONSE
AND GENE VARIANTS
Researchers in an international study have
uncovered new genetic evidence of how
the benefits of the world's most commonly
used Type 2 diabetes drug may vary
between individuals. Metformin, the drug
used by hundreds of millions of people
with Type 2 diabetes worldwide, has been
in use for more than 50 years. It has been
shown to protect against heart disease,
eye and kidney disease in people with Type
2 diabetes, and has also been shown to
have benefits against cancer. Metformin
is also undergoing new clinical trials to
determine if it can promote health aging.
It has been known for some time that
Metformin works better in some people
than others but the reasons for this have
not been understood. Now research led by
the University of Dundee and University of
California, San Francisco has identified a
genetic variant (a change in the DNA code
for a particular gene) that alters how well
metformin works. Researchers found that
overweight people carrying two copies
of a genetic variant responded so much
better to metformin that it was equivalent to
receiving an extra 550mg of the drug. They
say their findings represent a significant
step towards personalised, targeted
therapy in the treatment of Type 2 diabetes.
The research has been funded by
Wellcome, Diabetes UK and the National
Institutes of Health in the US and is
published in the journal Nature Genetics.
The Metformin Genetics Consortium
identified a genetic variant in the gene
encoding the glucose transporter GLUT2,
a protein that plays an important role in
transporting glucose inside the body. They
showed that those people who carried this
variant had reduced levels of GLUT2 in the
liver and other tissues resulting in a defect in
how the body handles glucose. Metformin
acted to specifically reverse this deficiency
resulting in a better response to metformin
in people carrying this gene variant.
Dr Elizabeth Robertson, Director of
Research at Diabetes UK, said, "This
study sheds important light on why
people with Type 2 diabetes respond
differently to metformin. Altogether, this
research represents an exciting step
towards personalised therapy for Type
2 diabetes, moving away from a 'one
size fits all' approach to ensure people
receive the best treatment possible. We're
very pleased to see research funded by
Diabetes UK moving the field of Type 2
diabetes treatment forwards."
WINTER FEET
People with diabetes should have their
feet checked at least annually and should
also be taught how to look after their feet
themselves. The charity IDDT wants to
help reduce the risks of foot damage so it
has published a new, free booklet called
Diabetes - Looking After Your Feet. It is
designed to help people to look after their
feet by providing information on what to
look for and giving advice as to when to
seek treatment to keep their feet healthy.
For a copy, email: