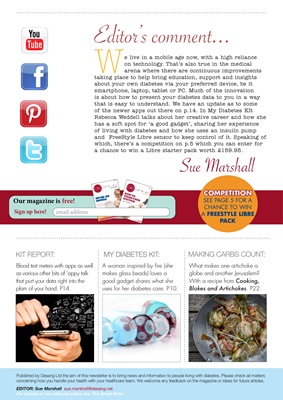 Published by Desang Ltd the aim of this newsletter is to bring news and information to people living with diabetes. Please check all matters
concerning how you handle your health with your healthcare team. We welcome any feedback on the magazine or ideas for future articles.
EDITOR: Sue Marshall sue.marshall@desang.net
For details of our editorial policy see The Small Print.
A woman inspired by fire (she
makes glass beads) loves a
good gadget shares what she
uses for her diabetes care. P10.Sue Marshall
KIT REPORT:
Blood test meters with apps as well
as various other bits of 'appy talk
that purt your data right into the
plam of your hand. P14. W
e live in a mobile age now, with a high reliance
on technology. That's also true in the medical
arena where there are conitinuous improvements
taking place to help bring education, support and insights
about your own diabetes via your preferred device, be it
smartphone, laptop, tablet or PC. Much of the innocation is
about how to present your diabetes data to you in a way
that is easy to understand. We have an update as to some
of the newer apps out there on p. 14. In My Diabetes KIt
Rebecca Weddell talks about her creative career and how she
has a soft spot for 'a good gadget', sharing her experience
of living with diabetes and how she uses and insuiln pump
and FreeStyle Libre sensor to keep control of it. Speaking of
which, there's a competition on p.5 which you can enter for
a chane to win a Libre starter pack worth £159.95.
Editor's comment...
ISSUE 30
MAGAZINE
DESANG
PLUS • New Products • Groovy giveaways • News (for T1 and T2)
WE'RE NO
ANGELS
But business as usual is best for
diabetics at Christmas
MAKING
CARBS COUNT:
CHESTNUTS ROASTING
ON OPEN FIRES
Our magazine is free!
Sign up here! email address
MAKING CARBS COUNT:
What makes one artichoke a
globe and another Jerusalem?
With a recipe from Cooking,
Blokes and Artichokes. P22.
MY DIABETES KIT:
COMPETITION
SEE PAGE 5 FOR A
CHANCE TO WIN
A FREESTYLE LIBRE
PACK