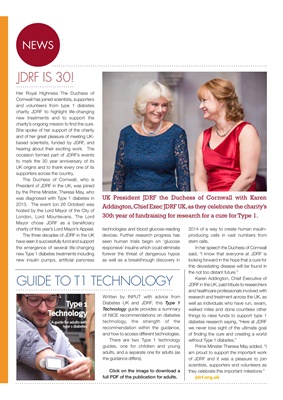 NEWS
GUIDE TO T1 TECHNOLOGY
Written by INPUT with advice from
Diabetes UK and JDRF, this Type 1
Technology guide provides a summary
of NICE recommendations on diabetes
technology, the strength of the
recommendation within the guidance,
and how to access different technologies.
There are two Type 1 technology
guides, one for children and young
adults, and a separate one for adults (as
the guidance differs).
Click on the image to download a
full PDF of the publication for adults.
JDRF IS 30!
Her Royal Highness The Duchess of
Cornwall has joined scientists, supporters
and volunteers from type 1 diabetes
charity JDRF to highlight life-changing
new treatments and to support the
charity's ongoing mission to find the cure.
She spoke of her support of the charity
and of her great pleasure of meeting UKbased scientists, funded by JDRF,
and
hearing about their exciting work. The
occasion formed part of JDRF's events
to mark the 30 year anniversary of its
UK origins and to thank every one of its
supporters across the country.
The Duchess of Cornwall, who is
President of JDRF in the UK, was joined
by the Prime Minister, Theresa May, who
was diagnosed with Type 1 diabetes in
2013. The event (on 26 October) was
hosted by the Lord Mayor of the City of
London, Lord Mountevans. The Lord
Mayor chose JDRF as a beneficiary
charity of this year's Lord Mayor's Appeal.
The three decades of JDRF in the UK
have seen it successfully fund and support
the emergence of several life-changing
new Type 1 diabetes treatments including
new insulin pumps, artificial pancreas
technologies and blood glucose-reading
devices. Further research progress has
seen human trials begin on 'glucose
responsive' insulins which could eliminate
forever the threat of dangerous hypos
as well as a breakthrough discovery in
2014 of a way to create human insulinproducing
cells in vast numbers from
stem cells.
In her speech the Duchess of Cornwall
said, "I know that everyone at JDRF is
looking forward in the hope that a cure for
this devastating disease will be found in
the not too distant future."
Karen Addington, Chief Executive of
JDRF in the UK, paid tribute to researchers
and healthcare professionals involved with
research and treatment across the UK, as
well as individuals who have run, swam,
walked miles and done countless other
things to raise funds to support type 1
diabetes research saying, "Here at JDRF
we never lose sight of the ultimate goal
of finding the cure and creating a world
without Type 1 diabetes."
Prime Minister Theresa May added, "I
am proud to support the important work
of JDRF and it was a pleasure to join
scientists, supporters and volunteers as
they celebrate this important milestone."
jdrf.org.uk
UK President JDRF the Duchess of Cornwall with Karen
Addington, Chief Exec JDRF UK, as they celebrate the charity's
30th year of fundraising for research for a cure for Type 1.