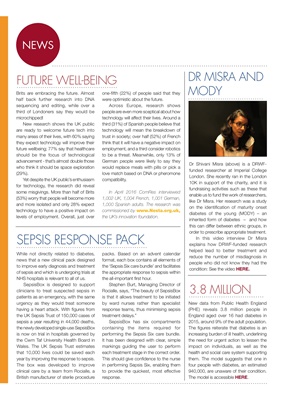 NEWS
FUTURE WELL-BEING
Brits are embracing the future with 60%
thinking that technology will improve
their future wellbeing. Almost half back
further research into DNA sequencing and
editing, while over a third of Londoners
say they would be microchipped!
New research shows the UK public
are ready to welcome future tech into
many areas of their lives, with 60% saying
they expect technology will improve their
future wellbeing; 77% say that healthcare
should be the focus of technological
advancement - that's almost double those
who think it should be space exploration
(29%).
Yet despite the UK public's enthusiasm
for technology, the research did reveal
some misgivings. More than half of Brits
(53%) worry that people will become more
and more isolated and only 28% expect
technology to have a positive impact on
levels of employment. Overall, just over
one-fifth (22%) of people said that they
were optimistic about the future.
Across Europe, research shows
people are even more sceptical about how
technology will affect their lives. Around a
third (31%) of Spanish people believe that
technology will mean the breakdown of
trust in society; over half (52%) of French
think that it will have a negative impact on
employment, and a third consider robotics
to be a threat. Meanwhile, only 13% of
German people were likely to say they
would replace meals with pills or pick a
love match based on DNA or pheromone
compatibility.
In April 2016 ComRes interviewed
1,002 UK, 1,004 French, 1,001 German,
1,000 Spanish adults. The research was
commissioned by www.nesta.org.uk,
the UK's innovation foundation.
SEPSIS RESPONSE PACK
While not directly related to diabetes,
news that a new clinical pack designed
to improve early diagnosis and treatment
of sepsis and which is undergoing trials at
NHS hospitals is relevant to all of us.
SepsisBox is designed to support
clinicians to treat suspected sepsis in
patients as an emergency, with the same
urgency as they would treat someone
having a heart attack. With figures from
the UK Sepsis Trust of 150,000 cases of
sepsis a year resulting in 44,000 deaths,
the newly developed single-use SepsisBox
is now on trial in hospitals governed by
the Cwm Taf University Health Board in
Wales. The UK Sepsis Trust estimates
that 10,000 lives could be saved each
year by improving the response to Sepsis.
The box was developed to improve
clinical care by a team from Rocialle, a
British manufacturer of sterile procedure
packs. Based on an advent calendar
format, each box contains all elements of
the 'Sepsis Six care bundle' and facilitates
the appropriate response to sepsis within
the all-important first hour.
Stephen Burt, Managing Director of
Rocialle, says, "The beauty of SepsisBox
is that it allows treatment to be initiated
by ward nurses rather than specialist
response teams, thus minimising sepsis
treatment delays."
SepsisBox has six compartments
containing the items required for
performing the Sepsis Six care bundle.
It has been designed with clear, simple
markings guiding the user to perform
each treatment stage in the correct order.
This should give confidence to the nurse
in performing Sepsis Six with the patient
enabling them to provide the quickest,
most effective response.
DR MISRA AND
MODY
Dr Shivani Misra (above) is a DRWFfunded researcher
at Imperial College
London. She recently ran in the London
10K in support of the charity, and it is
fundraising activities such as these that
enable us to fund the work of researchers,
like Dr Misra. Her research was a study
on the identification of maturity onset
diabetes of the young (MODY) - an
inherited form of diabetes - and how
this can differ between ethnic groups, in
order to prescribe appropriate treatment.
In this video interview Dr Misra
explains how DRWF-funded research
helped lead to better and treatment and
reducing the number of misdiagnosis in
people who did not know they had the
condition: See the video HERE.
New data from Public Health England
(PHE) reveals 3.8 million people in
England aged over 16 had diabetes in
2015, around 9% of the adult population.
The figures reiterate that diabetes is an
increasing burden of ill health, underlining
the need for urgent action to lessen the
impact on individuals, as well as the
health and social care system supporting
them. The model suggests that one in
four people with diabetes, an estimated
940,000, are unaware of their condition.
The model is accessible HERE.
3.8 MILLION