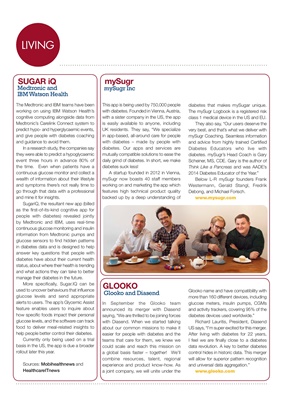 LIVINGLIVING
The Medtronic and IBM teams have been
working on using IBM Watson Health's
cognitive computing alongside data from
Medtronic's Carelink Connect system to
predict hypo- and hyperglycaemic events
and give people with diabetes coaching
and guidance to avoid them.
In a research study, the companies say
they were able to predict a hypoglycaemic
event three hours in advance 80% of
the time. Even when patients have a
continuous glucose monitor and collect a
wealth of information about their lifestyle
and symptoms there's not really time to
go through that data with a professional
and mine it for insights.
Sugar.IQ, the resultant new app (billed
as the first-of-its-kind cognitive app for
people with diabetes) revealed jointly
by Medtronic and IBM, uses real-time
continuous glucose monitoring and insulin
information from Medtronic pumps and
glucose sensors to find hidden patterns
in diabetes data and is designed to help
answer key questions that people with
diabetes have about their current health
status, about where their health is trending
and what actions they can take to better
manage their diabetes in the future.
More specifically, Sugar.IQ can be
used to uncover behaviours that influence
glucose levels and send appropriate
alerts to users. The app's Glycemic Assist
feature enables users to inquire about
how specific foods impact their personal
glucose levels, and the software can track
food to deliver meal-related insights to
help people better control their diabetes.
Currently only being used on a trial
basis in the US, the app is due a broader
rollout later this year.
Sources: Mobihealthnews and
HealthcareITnews
SUGAR iQ
Medtronic and
IBM Watson Health
This app is being used by 750,000 people
with diabetes. Founded in Vienna, Austria,
with a sister company in the US, the app
is easily available to anyone, including
UK residents. They say, "We specialize
in app-based, all-around care for people
with diabetes - made by people with
diabetes. Our apps and services are
mutually compatible solutions to ease the
daily grind of diabetes. In short, we make
diabetes suck less!
A startup founded in 2012 in Vienna,
mySugr now boasts 40 staff members
working on and marketing the app which
features high technical product quality
backed up by a deep understanding of
mySugr
mySugr Inc
diabetes that makes mySugar unique.
The mySugr Logbook is a registered risk
class 1 medical device in the US and EU.
They also say, "Our users deserve the
very best, and that's what we deliver with
mySugr Coaching. Seamless information
and advice from highly trained Certified
Diabetes Educators who live with
diabetes. mySugr's Head Coach is Gary
Scheiner, MS, CDE. Gary is the author of
"Think Like a Pancreas" and was AADE's
2014 Diabetes Educator of the Year."
Below L-R mySugr founders Frank
Westermann, Gerald Stangl, Fredrik
Debong, and Michael Forisch.
In September the Glooko team
announced its merger with Diasend
saying, "We are thrilled to be joining forces
with Diasend. When we started talking
about our common missions to make it
easier for people with diabetes and the
teams that care for them, we knew we
could scale and reach this mission on
a global basis faster - together! We'll
combine resources, talent, regional
experience and product know-how. As
a joint company, we will unite under the
Glooko name and have compatibility with
more than 160 different devices, including
glucose meters, insulin pumps, CGMs
and activity trackers, covering 95% of the
diabetes devices used worldwide."
Richard Lauritis, President, Diasend
US says, "I'm super excited for this merger.
After living with diabetes for 22 years,
I feel we are finally close to a diabetes
data revolution. A key to better diabetes
control hides in historic data. This merger
will allow for superior pattern recognition
and universal data aggregation."
GLOOKO
Glooko and Diasend