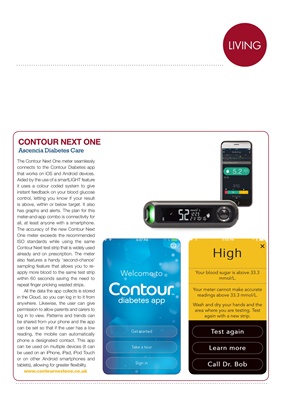 KITLIVING
CONTOUR NEXT ONE
Ascencia Diabetes Care
The Contour Next One meter seamlessly
connects to the Contour Diabetes app
that works on iOS and Android devices.
Aided by the use of a smartLIGHT feature
it uses a colour coded system to give
instant feedback on your blood glucose
control, letting you know if your result
is above, within or below target. It also
has graphs and alerts. The plan for this
meter-and-app combo is connectivity for
all, at least anyone with a smartphone.
The accuracy of the new Contour Next
One meter exceeds the recommended
ISO standards while using the same
Contour Next test strip that is widely used
already and on prescription. The meter
also features a handy 'second-chance'
sampling feature that allows you to reapply more
blood to the same test strip
within 60 seconds saving the need to
repeat finger pricking wasted strips.
All the data the app collects is stored
in the Cloud, so you can log in to it from
anywhere. Likewise, the user can give
permissions to allow parents and carers
to log in to view. Patterns and trends can
be shared from your phone and the app
can be set so that if the user has a low
reading, the mobile can automatically
phone a designated contact. This app
can be used on multiple devices (it can
be used on an iPhone, iPad, iPod Touch
or on other Android smartphones and
tablets), allowing for greater flexibility.