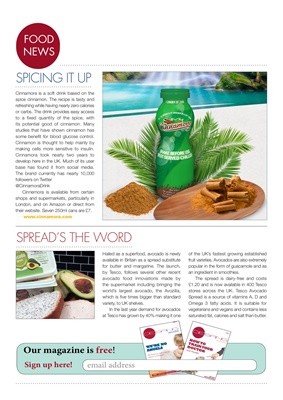 LIVINGLIVING
FOOD
NEWS
SPICING IT UP
SPREAD'S THE WORD
ISSUE 30
MAGAZINE
DESANG
PLUS • New Products • Groovy giveaways • News (for T1 and T2)
WE'RE NO
ANGELS
But business as usual is best for
diabetics at Christmas
MAKING
CARBS COUNT:
CHESTNUTS ROASTING
ON OPEN FIRES
Our magazine is free!
Sign up here! email address
Cinnamora is a soft drink based on the
spice cinnamon. The recipe is tasty and
refreshing while having nearly zero calories
or carbs. The drink provides easy access
to a fixed quantity of the spice, with
its potential good of cinnamon. Many
studies that have shown cinnamon has
some benefit for blood glucose control.
Cinnamon is thought to help mainly by
making cells more sensitive to insulin.
Cinnamora took nearly two years to
develop here in the UK. Much of its user
base has found it from social media.
The brand currently has nearly 10,000
followers on Twitter
@CinnamoraDrink
Cinnemora is available from certain
shops and supermarkets, particularly in
London, and on Amazon or direct from
their website. Seven 250ml cans are £7.
Hailed as a superfood, avocado is newly
available in Britain as a spread substitute
for butter and margarine. The launch,
by Tesco, follows several other recent
avocado food innovations made by
the supermarket including bringing the
world's largest avocado, the Avozilla,
which is five times bigger than standard
variety, to UK shelves.
In the last year demand for avocados
at Tesco has grown by 40% making it one
of the UK's fastest growing established
fruit varieties. Avocados are also extremely
popular in the form of guacamole and as
an ingredient in smoothies.
The spread is dairy-free and costs
£1.20 and is now available in 400 Tesco
stores across the UK. Tesco Avocado
Spread is a source of vitamins A, D and
Omega 3 fatty acids. It is suitable for
vegetarians and vegans and contains less
saturated fat, calories and salt than butter.