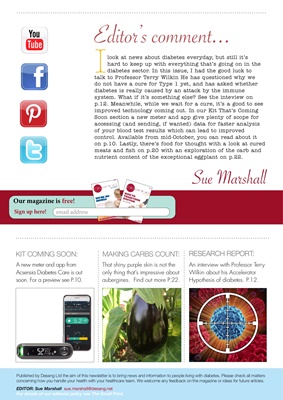 Published by Desang Ltd the aim of this newsletter is to bring news and information to people living with diabetes. Please check all matters
concerning how you handle your health with your healthcare team. We welcome any feedback on the magazine or ideas for future articles.
EDITOR: Sue Marshall sue.marshall@desang.netshall" target="_blank" title="Visit sue.marshall">sue.marshall@desang.net
For details of our editorial policy see The Small Print.
That shiney purple skin is not the
only thing that's impressive about
aubergines. Find out more P.22. Sue Marshall
KIT COMING SOON:
A new meter and app from Acsencia Diabetes Care is out next
month. For a preview see P.10. I
look at news about diabetes everyday, but still it's
hard to keep up with everything that's going on in the
diabetes sector. In this issue, I had the good luck to
talk to Professor Terry Wilkin He has questioned why we
do not have a cure for Type 1 yet, and has asked whether
diabetes is really caused by an attack by the immune
system. What if it's something else? See the inteview on
p.12. Meanwhile, while we wait for a cure, it's a good to see
improved technology coming out. In our Kit That's Coming
Soon section a new meter and app give plenty of scope for
accessing (and sending, if wanted) data to faster analysis of
your blood test results which can lead to improved control.
Not available until mid-October, you can read about it on p.
Lastly, there's food for thought with a look at cured meats
and fish on p. and an exploration of the carb and nutrient
content of the exceptional eggplant on p.22.
Editor's comment...
ISSUE 30
MAGAZINE
DESANG
PLUS • New Products • Groovy giveaways • News (for T1 and T2)
WE'RE NO
ANGELS
But business as usual is best for
diabetics at Christmas
MAKING
CARBS COUNT:
CHESTNUTS ROASTING
ON OPEN FIRES
Our magazine is free!
Sign up here! email address
MAKING CARBS COUNT:
An interview with Professor Terry
Wilkin about his Accelerator
Hypothesis of diabetes. P.12.
RESEARCH REPORT: