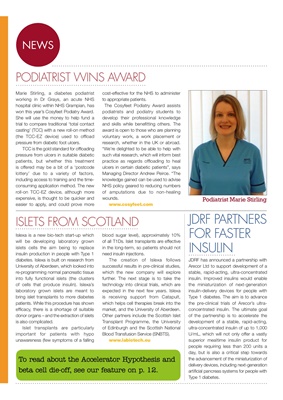 NEWS
PODIATRIST WINS AWARD
Marie Stirling, a diabetes podiatrist
working in Dr Grays, an acute NHS
hospital clinic within NHS Grampian, has
won this year's Cosyfeet Podiatry Award.
She will use the money to help fund a
trial to compare traditional 'total contact
casting' (TCC) with a new roll-on method
(the TCC-EZ device) used to offload
pressure from diabetic foot ulcers.
TCC is the gold standard for offloading
pressure from ulcers in suitable diabetic
patients, but whether this treatment
is offered may be a bit of a 'postcode
lottery' due to a variety of factors,
including access to training and the timeconsuming application method.
The new
roll-on TCC-EZ device, although more
expensive, is thought to be quicker and
easier to apply, and could prove more
cost-effective for the NHS to administer
to appropriate patients.
The Cosyfeet Podiatry Award assists
podiatrists and podiatry students to
develop their professional knowledge
and skills while benefitting others. The
award is open to those who are planning
voluntary work, a work placement or
research, whether in the UK or abroad.
"We're delighted to be able to help with
such vital research, which will inform best
practice as regards offloading to heal
ulcers in certain diabetic patients", says
Managing Director Andrew Peirce. "The
knowledge gained can be used to advise
NHS policy geared to reducing numbers
of amputations due to non-healing
wounds.
Podiatrist Marie Stirling
JDRF has announced a partnership with
Arecor Ltd to support development of a
stable, rapid-acting, ultra-concentrated
insulin. Improved insulins would enable
the miniaturization of next-generation
insulin-delivery devices for people with
Type 1 diabetes. The aim is to advance
the pre-clinical trials of Arecor's ultraconcentrated insulin. The ultimate goal
of the partnership is to accelerate the
development of a stable, rapid-acting,
ultra-concentrated insulin of up to 1,000
U/mL, which will not only offer a vastly
superior mealtime insulin product for
people requiring less than 200 units a
day, but is also a critical step towards
the advancement of the miniaturization of
delivery devices, including next-generation
artificial pancreas systems for people with
Type 1 diabetes.
JDRF PARTNERS
FOR FASTER
INSULIN
Islexa is a new bio-tech start-up which
will be developing laboratory grown
islets cells the aim being to replace
insulin production in people with Type 1
diabetes. Islexa is built on research from
University of Aberdeen, which looked into
re-programming normal pancreatic tissue
into fully functional islets (the clusters
of cells that produce insulin). Islexa's
laboratory grown islets are meant to
bring islet transplants to more diabetes
patients. While this procedure has shown
efficacy, there is a shortage of suitable
donor organs - and the extraction of islets
is also complicated.
Islet transplants are particularly
important for patients with hypo
unawareness (few symptoms of a falling
blood sugar level), approximately 10%
of all T1Ds. Islet transplants are effective
in the long-term, so patients should not
need insulin injections.
The creation of Islexa follows
successful results in pre-clinical studies,
which the new company will explore
further. The next stage is to take the
technology into clinical trials, which are
expected in the next few years. Islexa
is receiving support from Catapult,
which helps cell therapies break into the
market, and the University of Aberdeen.
Other partners include the Scottish Islet
Transplant Programme, the University
of Edinburgh and the Scottish National
Blood Transfusion Service (SNBTS).
ISLETS FROM SCOTLAND
To read about the Accelerator Hypothesis and
beta cell die-off, see our feature on p. 12.