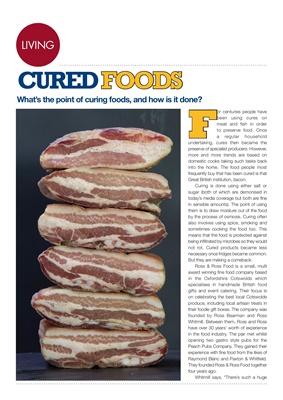 LIVINGLIVING
CURED FOODS
What's the point of curing foods, and how is it done. We find out!
F
or centuries people have
been using cures on
meat and fish in order
to preserve food. Once
a regular household
undertaking, cures then became the
preserve of specialist producers. However,
more and more trends are based on
domestic cooks taking such tasks back
into the home. The food people most
frequently buy that has been cured is that
Great British institution, bacon.
Curing is done using either salt or
sugar (both of which are demonised in
today's media coverage but both are fine
in sensible amounts). The point of using
them is to draw moisture out of the food
by the process of osmosis. Curing often
also involves using spice, smoking and
sometimes cooking the food too. This
means that the food is protected against
being infiltrated by microbes so they would
not rot. Cured products became less
necessary once fridges became common.
But they are making a comeback.
Ross & Ross Food is a small, multi
award winning fine food company based
in the Oxfordshire Cotswolds which
specialises in handmade British food
gifts and event catering. Their focus is
on celebrating the best local Cotswolds
produce, including local artisan treats in
their foodie gift boxes. The company was
founded by Ross Bearman and Ross
Whitmill. Between them, Ross and Ross
have over 30 years' worth of experience
in the food industry. The pair met whilst
opening two gastro style pubs for the
Peach Pubs Company. They gained their
experience with fine food from the likes of
Raymond Blanc and Paxton & Whitfield.
They founded Ross & Ross Food together
four years ago.
Whitmill says, "There's such a huge