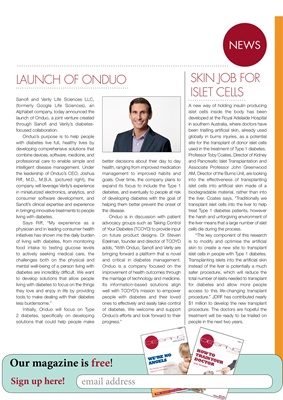 NEWS
LAUNCH OF ONDUO SKIN JOB FOR
ISLET CELLS
A new way of holding insulin producing
islet cells inside the body has been
developed at the Royal Adelaide Hospital
in southern Australia, where doctors have
been trialling artificial skin, already used
globally in burns injuries, as a potential
site for the transplant of donor islet cells
used in the treatment of Type 1 diabetes.
Professor Toby Coates, Director of Kidney
and Pancreatic Islet Transplantation and
Associate Professor John Greenwood
AM, Director of the Burns Unit, are looking
into the effectiveness of transplanting
islet cells into artificial skin made of a
biodegradable material, rather than into
the liver. Coates says, "Traditionally we
transplant islet cells into the liver to help
treat Type 1 diabetes patients, however
the harsh and unforgiving environment of
the liver means that a large number of islet
cells die during the process.
"The key component of this research
is to modify and optimise the artificial
skin to create a new site to transplant
islet cells in people with Type 1 diabetes.
Transplanting islets into the artificial skin
instead of the liver is potentially a much
safer procedure, which will reduce the
total number of islets needed to transplant
for diabetes and allow more people
access to this life-changing transplant
procedure." JDRF has contributed nearly
$1 million to develop the new transplant
procedure. The doctors are hopeful the
treatment will be ready to be trialled on
people in the next two years.
Sanofi and Verily Life Sciences LLC,
(formerly Google Life Sciences), an
Alphabet company, today announced the
launch of Onduo, a joint venture created
through Sanofi and Verily's diabetesfocused collaboration.
Onduo's purpose is to help people
with diabetes live full, healthy lives by
developing comprehensive solutions that
combine devices, software, medicine, and
professional care to enable simple and
intelligent disease management. Under
the leadership of Onduo's CEO, Joshua
Riff, M.D., M.B.A. (pictured right), the
company will leverage Verily's experience
in miniaturized electronics, analytics, and
consumer software development, and
Sanofi's clinical expertise and experience
in bringing innovative treatments to people
living with diabetes.
Says Riff, "My experience as a
physician and in leading consumer health
initiatives has shown me the daily burden
of living with diabetes, from monitoring
food intake to testing glucose levels
to actively seeking medical care, the
challenges both on the physical and
mental well-being of a person living with
diabetes are incredibly difficult. We want
to develop solutions that allow people
living with diabetes to focus on the things
they love and enjoy in life by providing
tools to make dealing with their diabetes
less burdensome."
Initially, Onduo will focus on Type
2 diabetes, specifically on developing
solutions that could help people make
better decisions about their day to day
health, ranging from improved medication
management to improved habits and
goals. Over time, the company plans to
expand its focus to include the Type 1
diabetes, and eventually to people at risk
of developing diabetes with the goal of
helping them better prevent the onset of
the disease.
Onduo is in discussion with patient
advocacy groups such as Taking Control
of Your Diabetes (TCOYD) to provide input
on future product designs. Dr Steven
Edelman, founder and director of TCOYD
adds, "With Onduo, Sanofi and Verily are
bringing forward a platform that is novel
and critical in diabetes management.
Onduo is a company focused on the
improvement of health outcomes through
the marriage of technology and medicine.
Its information-based solutions align
well with TCOYD's mission to empower
people with diabetes and their loved
ones to effectively and easily take control
of diabetes. We welcome and support
Onduo's efforts and look forward to their
progress."
ISSUE 30
MAGAZINE
DESANG
PLUS • New Products • Groovy giveaways • News (for T1 and T2)
WE'RE NO
ANGELS
But business as usual is best for
diabetics at Christmas
MAKING
CARBS COUNT:
CHESTNUTS ROASTING
ON OPEN FIRES
Our magazine is free!
Sign up here! email address