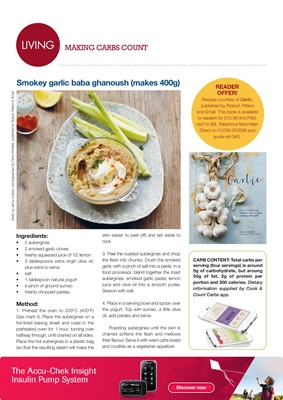 LIVINGLIVING
Smokey garlic baba ghanoush (makes 400g)
Ingredients:
• 2 aubergines
• 2 smoked garlic cloves
• freshly squeezed juice of 1⁄2 lemon
• 3 tablespoons extra virgin olive oil,
plus extra to serve
• salt
• 1 tablespoon natural yogurt
• a pinch of ground sumac
• freshly chopped parsle
Method:
1. Preheat the oven to 200°C (400°F)
Gas mark 6. Place the aubergines on a
foil-lined baking sheet and roast in the
preheated oven for 1 hour, turning over
halfway through, until charred on all sides.
Place the hot aubergines in a plastic bag
(so that the resulting steam will make the
MAKING CARBS COUNT
skin easier to peel off) and set aside to
cool.
3. Peel the roasted aubergines and chop
the flesh into chunks. Crush the smoked
garlic with a pinch of salt into a paste. In a
food processor, blend together the roast
aubergines, smoked garlic paste, lemon
juice and olive oil into a smooth purée.
Season with salt.
4. Place in a serving bowl and spoon over
the yogurt. Top with sumac, a little olive
oil, add parsley and serve.
Roasting aubergines until the skin is
charred softens the flesh and mellows
their flavour. Serve it with warm pitta bread
and crudités as a vegetarian appetizer.
Garlic by Jenny Linford, photographed by Clare Winfield, published by Ryland Peters & Small.
READER
OFFER!
Recipes courtesy of Garlic,
published by Ryland, Peters
and Small. This book is available
to readers for £10.99 (incl P&S;
rrp£14.99). Telephone Macmillan
Direct on 01256-302699 and
quote ref GK5.
CARB CONTENT:
Total carbs per serving (four
servings) is just under 10g, with
6g fat and 7.5g of protein per
portion and 120 cals. Dietary
information supplied by Cook &
Count Carbs app.