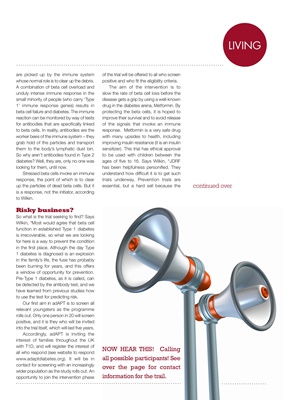 KITLIVING
are picked up by the immune system
whose normal role is to clear up the debris.
A combination of beta cell overload and
unduly intense immune response in the
small minority of people (who carry 'Type
1' immune response genes) results in
beta cell failure and diabetes. The immune
reaction can be monitored by way of tests
for antibodies that are specifically linked
to beta cells. In reality, antibodies are the
worker bees of the immune system - they
grab hold of the particles and transport
them to the body's lymphatic dust bin.
So why aren't antibodies found in Type 2
diabetes? Well, they are, only no one was
looking for them, until now.
Stressed beta cells invoke an immune
response, the point of which is to clear
up the particles of dead beta cells. But it
is a response, not the initiator, according
to Wilkin.
Risky business?
So what is the trial seeking to find? Says
Wilkin, "Most would agree that beta cell
function in established Type 1 diabetes
is irrecoverable, so what we are looking
for here is a way to prevent the condition
in the first place. Although the day Type
1 diabetes is diagnosed is an explosion
in the family's life, the fuse has probably
been burning for years, and this offers
a window of opportunity for prevention.
Pre-Type 1 diabetes, as it is called, can
be detected by the antibody test, and we
have learned from previous studies how
to use the test for predicting risk.
Our first aim in adAPT is to screen all
relevant youngsters as the programme
rolls out. Only one person in 20 will screen
positive, and it is they who will be invited
into the trial itself, which will last five years.
Accordingly, adAPT is inviting the
interest of families throughout the UK
with T1D, and will register the interest of
all who respond (see website to respond
www.adaptdiabetes.org). It will be in
contact for screening with an increasingly
wider population as the study rolls out. An
opportunity to join the intervention phase
of the trial will be offered to all who screen
positive and who fit the eligibility criteria.
The aim of the intervention is to
slow the rate of beta cell loss before the
disease gets a grip by using a well-known
drug in the diabetes arena, Metformin. By
protecting the beta cells, it is hoped to
improve their survival and to avoid release
of the signals that invoke an immune
response. Metformin is a very safe drug
with many upsides to health, including
improving insulin resistance (it is an insulin
sensitizer). This trial has ethical approval
to be used with children between the
ages of five to 16. Says Wilkin, "JDRF
has been helpfulness personified. They
understand how difficult it is to get such
trials underway. Prevention trials are
essential, but a hard sell because the NOW HEAR THIS! Calling
all possible particupants! If
you, or someone you know,
might qualify for this trial,
see over the page for contact
information.