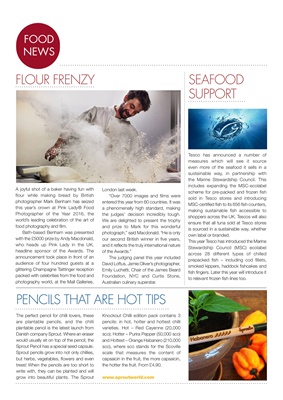 LIVINGLIVING
FOOD
NEWS
FLOUR FRENZY SEAFOOD
SUPPORT
A joyful shot of a baker having fun with
flour while making bread by British
photographer Mark Benham has seized
this year's crown at Pink Lady® Food
Photographer of the Year 2016, the
world's leading celebration of the art of
food photography and film.
Bath-based Benham was presented
with the £5000 prize by Andy Macdonald,
who heads up Pink Lady in the UK,
headline sponsor of the Awards. The
announcement took place in front of an
audience of four hundred guests at a
glittering Champagne Taittinger reception
packed with celebrities from the food and
photography world, at the Mall Galleries,
London last week.
"Over 7000 images and films were
entered this year from 60 countries. It was
a phenomenally high standard, making
the judges' decision incredibly tough.
We are delighted to present the trophy
and prize to Mark for this wonderful
photograph," said Macdonald. "He is only
our second British winner in five years,
and it reflects the truly international nature
of the Awards."
The judging panel this year included
David Loftus, Jamie Oliver's photographer,
Emily Luchetti, Chair of the James Beard
Foundation, NYC and Curtis Stone,
Australian culinary superstar.
Tesco has announced a number of
measures which will see it source
even more of the seafood it sells in a
sustainable way, in partnership with
the Marine Stewardship Council. This
includes expanding the MSC-ecolabel
scheme for pre-packed and frozen fish
sold in Tesco stores and introducing
MSC-certified fish to its 656 fish counters,
making sustainable fish accessible to
shoppers across the UK. Tescos will also
ensure that all tuna sold at Tesco stores
is sourced in a sustainable way, whether
own label or branded.
This year Tesco has introduced the Marine
Stewardship Council (MSC) ecolabel
across 28 different types of chilled
prepacked fish - including cod fillets,
smoked kippers, haddock fishcakes and
fish fingers. Later this year will introduce it
to relevant frozen fish lines too.
PENCILS THAT ARE HOT TIPS
Knockout Chilli edition pack contains 3
pencils: in hot, hotter and hottest chilli
varieties. Hot - Red Cayenne (20,000
sco); Hotter - Purira Pepper (50,000 sco)
and Hottest - Orange Habanero (210,000
sco), where sco stands for the Scoville
scale that measures the content of
capsaicin in the fruit, the more capsaicin,
the hotter the fruit. From £4.90.
The perfect pencil for chilli lovers, these
are plantable pencils, and the chilli
plantable pencil is the latest launch from
Danish company Sprout. Where an eraser
would usually sit on top of the pencil, the
Sprout Pencil has a special seed capsule.
Sprout pencils grow into not only chillies,
but herbs, vegetables, flowers and even
trees! When the pencils are too short to
write with, they can be planted and will
grow into beautiful plants. The Sprout