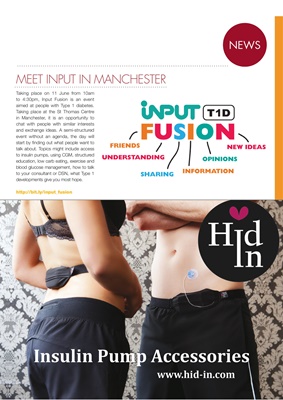 NEWS
Taking place on 11 June from 10am
to 4:30pm, Input Fusion is an event
aimed at people with Type 1 diabetes.
Taking place at the St Thomas Centre
in Manchester, it is an opportunity to
chat with people with similar interests
and exchange ideas. A semi-structured
event without an agenda, the day will
start by finding out what people want to
talk about. Topics might include access
to insulin pumps, using CGM, structured
education, low carb eating, exercise and
blood glucose management, how to talk
to your consultant or DSN, what Type 1
developments give you most hope.
MEET INPUT IN MANCHESTER