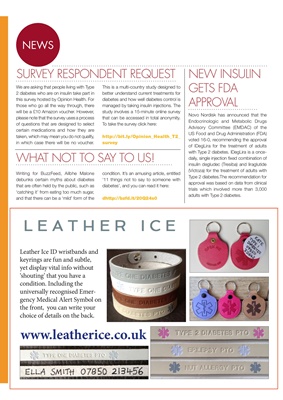 NEWS
SURVEY RESPONDENT REQUEST
We are asking that people living with Type
2 diabetes who are on insulin take part in
this survey hosted by Opinion Health. For
those who go all the way through, there
will be a £10 Amazon voucher. However,
please note that the survey uses a process
of questions that are designed to select
certain medications and how they are
taken, which may mean you do not qualify,
in which case there will be no voucher.
This is a multi-country study designed to
better understand current treatments for
diabetes and how well diabetes control is
managed by taking insulin injections. The
study involves a 15-minute online survey
that can be accessed in total anonymity.
To take the survey click here:
http://bit.ly/opinion_health_t2_
survey
Writing for BuzzFeed, Ailbhe Malone
debunks certain myths about diabetes
that are often held by the public, such as
'catching it' from eating too much sugar,
and that there can be a 'mild' form of the
SURVEY RESPONDENT REQUEST
condition. It's an amusing article, entitled
'11 things not to say to someone with
diabetes', and you can read it here:
Novo Nordisk has announced that the
Endocrinologic and Metabolic Drugs
Advisory Committee (EMDAC) of the
US Food and Drug Administration
(FDA) voted 16-0, recommending the
approval of IDegLira for the treatment
of adults with Type 2 diabetes.
IDegLira is a once-daily, single injection
fixed combination of insulin degludec
(Tresiba) and liraglutide (Victoza) for
the treatment of adults with Type 2
diabetes.the recommendation for
approval was based on data from
clinical trials which involved more than
3,000 adults with Type 2 diabetes.
NEW INSULIN
GETS FDA
APPROVAL
Leather Ice ID wristbands and
keyrings are fun and subtle,
yet display vital info without
'shouting' that you have a
condition. Including the
universally recognised Emergency
Medical Alert Symbol on
the front, you can write your
choice of details on the back.