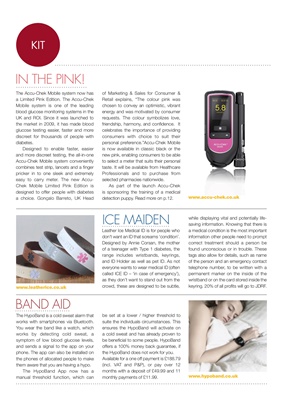 KIT
BAND AID
The HypoBand is a cold sweat alarm that
works with smartphones via Bluetooth.
You wear the band like a watch, which
works by detecting cold sweat, a
symptom of low blood glucose levels,
and sends a signal to the app on your
phone. The app can also be installed on
the phones of allocated people to make
them aware that you are having a hypo.
The HypoBand App now has a
manual threshold function, which can
be set at a lower / higher threshold to
suite the individuals circumstances. This
ensures the HypoBand will activate on
a cold sweat and has already proven to
be beneficial to some people. HypoBand
offers a 100% money back guarantee, if
the HypoBand does not work for you.
Available for a one off payment is £188.79
(incl. VAT and P&P), or pay over 12
months with a deposit of £49.99 and 11
monthly payments of £11.99. www.hypoband.co.uk
IN THE PINK!
The Accu-Chek Mobile system now has
a Limited Pink Edition. The Accu-Chek
Mobile system is one of the leading
blood glucose monitoring systems in the
UK and ROI. Since it was launched to
the market in 2009, it has made blood
glucose testing easier, faster and more
discreet for thousands of people with
diabetes.
Designed to enable faster, easier
and more discreet testing, the all-in-one
Accu-Chek Mobile system conveniently
combines test strip, lancets and a finger
pricker in to one sleek and extremely
easy to carry meter. The new AccuChek Mobile Limited Pink Edition is
designed to offer people with diabetes
a choice. Gonçalo Barreto, UK Head
of Marketing & Sales for Consumer &
Retail explains, "The colour pink was
chosen to convey an optimistic, vibrant
energy and was motivated by consumer
requests. The colour symbolizes love,
friendship, harmony, and confidence. It
celebrates the importance of providing
consumers with choice to suit their
personal preference."Accu-Chek Mobile
is now available in classic black or the
new pink, enabling consumers to be able
to select a meter that suits their personal
taste. It will be available from Healthcare
Professionals and to purchase from
selected pharmacies nationwide.
As part of the launch Accu-Chek
is sponsoring the training of a medical
detection puppy. Read more on p.12. www.accu-chek.co.uk
ICE MAIDEN
Leather Ice Medical ID is for people who
don't want an ID that screams 'condition'.
Designed by Annie Corsan, the mother
of a teenager with Type 1 diabetes, the
range includes wristbands, keyrings,
and ID Holder as well as pet ID. As not
everyone wants to wear medical ID (often
called ICE ID - 'in case of emergency'),
as they don't want to stand out from the
crowd, these are designed to be subtle,
while displaying vital and potentially lifesaving information.
Knowing that there is
a medical condition is the most important
information other people need to prompt
correct treatment should a person be
found unconscious or in trouble. These
tags also allow for details, such as name
of the person and an emergency contact
telephone number, to be written with a
permanent marker on the inside of the
wristband or on the card stored inside the
keyring. 20% of all profits will go to JDRF.