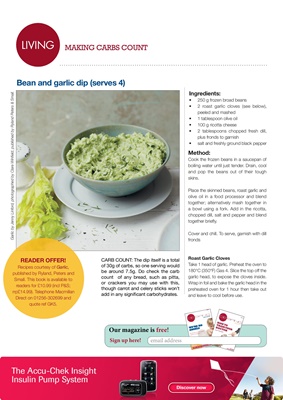 LIVINGLIVING
Bean and garlic dip (serves 4)
Ingredients:
• 250 g frozen broad beans
• 2 roast garlic cloves (see below),
peeled and mashed
• 1 tablespoon olive oil
• 100 g ricotta cheese
• 2 tablespoons chopped fresh dill,
plus fronds to garnish
• salt and freshly ground black pepper
MAKING CARBS COUNT
Method:
Cook the frozen beans in a saucepan of
boiling water until just tender. Drain, cool
and pop the beans out of their tough
skins.
Place the skinned beans, roast garlic and
olive oil in a food processor and blend
together; alternatively mash together in
a bowl using a fork. Add in the ricotta,
chopped dill, salt and pepper and blend
together briefly.
Cover and chill. To serve, garnish with dill
fronds
Roast Garlic Cloves
Take 1 head of garlic. Preheat the oven to
180°C (350°F) Gas 4. Slice the top off the
garlic head, to expose the cloves inside.
Wrap in foil and bake the garlic head in the
preheated oven for 1 hour then take out
and leave to cool before use.
CARB COUNT: The dip itself is a total
of 30g of carbs, so one serving would
be around 7.5g. Do check the carb
count of any bread, such as pitta,
or crackers you may use with this,
though carot and celery sticks won't
add in any significant carbohydrates.
Garlic by Jenny Linford, photographed by Clare Winfield, published by Ryland Peters & Small.
READER OFFER!
Recipes courtesy of Garlic,
published by Ryland, Peters and
Small. This book is available to
readers for £10.99 (incl P&S;
rrp£14.99). Telephone Macmillan
Direct on 01256-302699 and
quote ref GK5.
ISSUE 30
MAGAZINE
DESANG
PLUS • New Products • Groovy giveaways • News (for T1 and T2)
WE'RE NO
ANGELS
But business as usual is best for
diabetics at Christmas
MAKING
CARBS COUNT:
CHESTNUTS ROASTING
ON OPEN FIRES
Our magazine is free!
Sign up here! email address