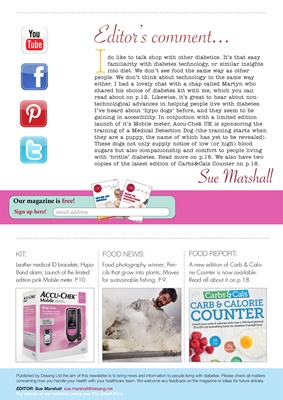 Published by Desang Ltd the aim of this newsletter is to bring news and information to people living with diabetes. Please check all matters
concerning how you handle your health with your healthcare team. We welcome any feedback on the magazine or ideas for future articles.
EDITOR: Sue Marshall sue.marshall@desang.netshall" target="_blank" title="Visit sue.marshall">sue.marshall@desang.net
For details of our editorial policy see The Small Print.
Food photography winner; Pencils that grow into plants; Moves
for sustsainable fishing. P.9.
Sue Marshall
KIT:
Leather medical ID bracelets; HypoBand alarm;
Launch of the limited
edition pink Mobile meter. P.10. I
do like to talk shop with other diabetics. It's that easy
familiarity with diabetes technology, or similar insights
into diet. We don't see food the same way as other
people. We don't think about technology in the same way
either. I had a lovely chat with a chap called Martyn who
shared his choice of diabetes kit with me, which you can
read about on p.12. Likewise, it's great to hear about nontechnological
advances in helping people live with diabetes.
I've heard about 'hypo dogs' before, and they seem to be
gaining in accesibility. In oonjuction with a limited edition
launch of it's Mobile meter, Accu-Chek UK is sponsoring the
training of a Medical Detection Dog (the training starts when
they are a puppy, the name of which has yet to be revealed).
These dogs not only supply notice of low (or high) blood
sugars but also companionship and comfort to people living
wiht 'brittle' diabetes. Reach more on p.16. We also have two
copies of the latest edition of Carbs&Cals Counter on p.18.
Editor's comment...
ISSUE 30
MAGAZINE
DESANG
PLUS • New Products • Groovy giveaways • News (for T1 and T2)
WE'RE NO
ANGELS
But business as usual is best for
diabetics at Christmas
MAKING
CARBS COUNT:
CHESTNUTS ROASTING
ON OPEN FIRES
Our magazine is free!
Sign up here! email address
FOOD NEWS:
A new edition of Carb & Calorie Counter is now available.
Read all about it on p.18.
FOOD REPORT: