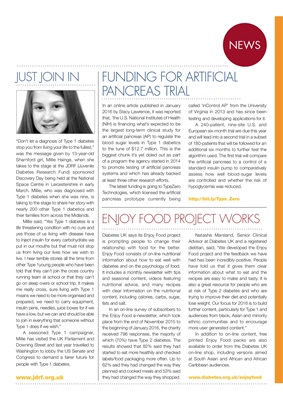 NEWS
"Don't let a diagnosis of Type 1 diabetes
stop you from living your life to the fullest,"
was the message given by 13-year-old
Sharnford girl, Millie Hainge, when she
takes to the stage at the JDRF (Juvenile
Diabetes Research Fund) sponsored
Discovery Day being held at the National
Space Centre in Leicestershire in early
March. Millie, who was diagnosed with
Type 1 diabetes when she was nine, is
taking to the stage to share her story with
nearly 200 other Type 1 diabetics and
their families from across the Midlands.
Millie said, "Yes Type 1 diabetes is a
life threatening condition with no cure and
yes those of us living with disease have
to inject insulin for every carbohydrate we
put in our mouths but that must not stop
us from living our lives how we wish to
live. I hear terrible stories all the time from
other Type 1young people who have been
told that they can't join the cross country
running team at school or that they can't
go on sleep overs or school trip. It makes
me really cross, sure living with Type 1
means we need to be more organised and
prepared, we need to carry equipment,
insulin pens, needles, juice boxes for if we
have a low, but we can and should be able
to join in everything that someone without
Type 1 does if we wish."
An ardent Type 1 campaigner, Millie
has lobbied both the UK Parliament
visiting the Houses of Parliament and
Downing Street and last year travelled to
Washington to lobby the US Senate and
Congress to demand a fairer future for
people with Type 1 diabetes.
JUST JOIN IN FUNDING FOR ARTIFICIAL
PANCREAS TRIAL
LIBRE FOR LITTLER ONES
In an online article published in January
2016 by Stacy Lawrence, it was reported
that, 'the U.S. National Institutes of Health
(NIH) is financing what's expected to be
the largest long-term clinical study for
an artificial pancreas (AP) to regulate the
blood sugar levels in Type 1 diabetics
to the tune of $12.7 million. This is the
biggest chunk it's yet doled out as part
of a program the agency started in 2014
to promote testing of artificial pancreas
systems and which has already backed
at least three other research efforts.
The latest funding is going to TypeZero
Technologies, which licensed the artificial
pancreas prototype currently being
called 'inControl AP' from the University
of Virginia in 2013 and has since been
testing and developing applications for it.
A 240-patient, nine-site U.S. and
European six-month trial are due this year
and will lead into a second trial in a subset
of 180-patients that will be followed for an
additional six months to further test the
algorithm used. The first trial will compare
the artificial pancreas to a control of a
standard insulin pump to comparatively
assess how well blood-sugar levels
are controlled and whether the risk of
hypoglycemia was reduced.