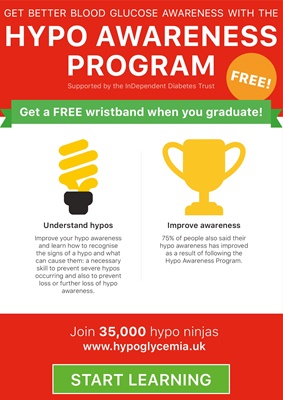 GET BETTER BLOOD GLUCOSE AWARENESS WITH THE
HYPO AWARENESS
PROGRAM FREE!
Get a FREE wristband when you graduate!
Supported by the InDependent Diabetes Trust
Join 35,000 hypo ninjas
START LEARNING
Understand hypos
Improve your hypo awareness
and learn how to recognise
the signs of a hypo and what
can cause them: a necessary
skill to prevent severe hypos
occurring and also to prevent
loss or further loss of hypo
awareness.
Improve awareness
75% of people also said their
hypo awareness has improved
as a result of following the
Hypo Awareness Program.