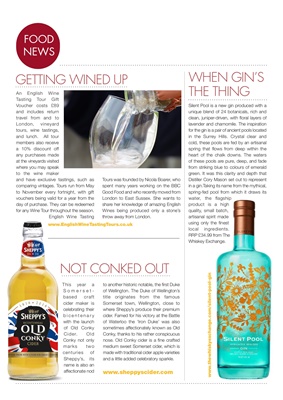 LIVINGLIVING
FOOD
NEWS
GETTING WINED UP WHEN GIN'S
THE THING
This year a
Somersetbased craft
cider maker is
celebrating their
bicentenary
with the launch
of Old Conky
Cider. Old
Conky not only
marks two
centuries of
Sheppy's, its
name is also an
affectionate nod
An English Wine
Tasting Tour Gift
Voucher costs £89
and includes return
travel from and to
London, vineyard
tours, wine tastings,
and lunch. All tour
members also receive
a 10% discount off
any purchases made
at the vineyards visited
where you may speak
to the wine maker
and have exclusive tastings, such as
comparing vintages. Tours run from May
to November every fortnight, with gift
vouchers being valid for a year from the
day of purchase. They can be redeemed
for any Wine Tour throughout the season.
English Wine Tasting
to another historic notable, the first Duke
of Wellington. The Duke of Wellington's
title originates from the famous
Somerset town, Wellington, close to
where Sheppy's produce their premium
cider. Famed for his victory at the Battle
of Waterloo the 'Iron Duke' was also
sometimes affectionately known as Old
Conky, thanks to his rather conspicuous
nose. Old Conky cider is a fine crafted
medium sweet Somerset cider, which is
made with traditional cider apple varieties
and a little added celebratory sparkle.
NOT CONKED OUT
Silent Pool is a new gin produced with a
unique blend of 24 botanicals, rich and
clean, juniper-driven, with floral layers of
lavender and chamomile. The inspiration
for the gin is a pair of ancient pools located
in the Surrey Hills. Crystal clear and
cold, these pools are fed by an artisanal
spring that flows from deep within the
heart of the chalk downs. The waters
of these pools are pure, deep, and fade
from striking blue to colours of emerald
green. It was this clarity and depth that
Distiller Cory Mason set out to represent
in a gin.taking its name from the mythical,
spring-fed pool from which it draws its
water, the flagship
product is a high
quality, small batch,
artisanal spirit made
using only the finest
local ingredients.
RRP £34.99 from The
Whiskey Exchange.
Tours was founded by Nicola Boarer, who
spent many years working on the BBC
Good Food and who recently moved from
London to East Sussex. She wants to
share her knowledge of amazing English
Wines being produced only a stone's
throw away from London.
www.englishwinetastingtours.co.uk