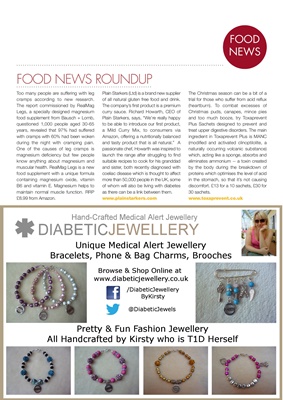 /DiabeticJewellery
ByKirsty
Unique Medical Alert Jewellery
Bracelets, Phone & Bag Charms, Brooches
Pretty & Fun Fashion Jewellery
All Handcrafted by Kirsty who is T1D Herself
Browse & Shop Online at
@DiabeticJewels
FOOD
NEWS
FOOD NEWS ROUNDUP
Too many people are suffering with leg
cramps according to new research.
The report commissioned by RealMag
Legs, a specially designed magnesium
food supplement from Bausch + Lomb,
questioned 1,000 people aged 30-65
years, revealed that 97% had suffered
with cramps with 60% had been woken
during the night with cramping pain.
One of the causes of leg cramps is
magnesium deficiency but few people
know anything about magnesium and
muscular health. RealMag Legs is a new
food supplement with a unique formula
containing magnesium oxide, vitamin
B6 and vitamin E. Magnesium helps to
maintain normal muscle function. RRP
£8.99 from Amazon.
Plain Starkers (Ltd) is a brand new supplier
of all natural gluten free food and drink.
The company's first product is a premium
curry sauce. Richard Howarth, CEO of
Plain Starkers, says, "We're really happy
to be able to introduce our first product,
a Mild Curry Mix, to consumers via
Amazon, offering a nutritionally balanced
and tasty product that is all natural." A
passionate chef, Howarth was inspired to
launch the range after struggling to find
suitable recipes to cook for his granddad
and sister, both recently diagnosed with
coeliac disease which is thought to affect
more than 50,000 people in the UK, some
of whom will also be living with diabetes
as there can be a link between them.
The Christmas season can be a bit of a
trial for those who suffer from acid reflux
(heartburn). To combat excesses of
Christmas puds, canapes, mince pies
and too much booze, try Toxaprevent
Plus Sachets designed to prevent and
treat upper digestive disorders. The main
ingredient in Toxaprevent Plus is MANC
(modified and activated clinoptilolite, a
naturally occurring volcanic substance)
which, acting like a sponge, absorbs and
eliminates ammonium -- a toxin created
by the body during the breakdown of
proteins which optimises the level of acid
in the stomach, so that it's not causing
discomfort. £13 for a 10 sachets, £30 for
30 sachets.