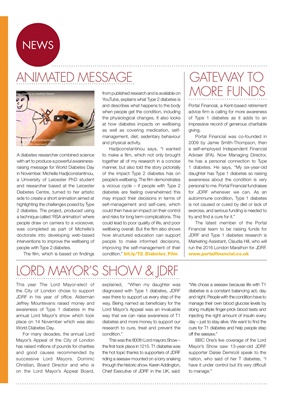 NEWS
A diabetes researcher combined science
with art to produce a powerful awarenessraising message for World
Diabetes Day
in November. Michelle Hadjiconstantinou,
a University of Leicester PhD student
and researcher based at the Leicester
Diabetes Centre, turned to her artistic
side to create a short animation aimed at
highlighting the challenges posed by Type
2 diabetes. The project, produced using
a technique called 'RSA animation' where
people draw on camera to a voiceover,
was completed as part of Michelle's
doctorate into developing web-based
interventions to improve the wellbeing of
people with Type 2 diabetes.
The film, which is based on findings
ANIMATED MESSAGE
from published research and is available on
YouTube, explains what Type 2 diabetes is
and describes what happens to the body
when people get the condition, including
the physiological changes. It also looks
at how diabetes impacts on wellbeing
as well as covering medication, selfmanagement, diet, sedentary behaviour
and physical activity.
Hadjiconstantinou says, "I wanted
to make a film, which not only brought
together all of my research in a concise
manner, but also told the story pictorially
of the impact Type 2 diabetes has on
people's wellbeing. The film demonstrates
a vicious cycle - if people with Type 2
diabetes are feeling overwhelmed this
may impact their decisions in terms of
self-management and self-care, which
could then have an impact on their control
and risks for long term complications. This
could lead to poor quality of life, and poor
wellbeing overall. But the film also shows
how structured education can support
people to make informed decisions,
improving the self-management of their
condition." bit.ly/t2_diabetes_film
Portal Financial, a Kent-based retirement
advice firm is calling for more awareness
of Type 1 diabetes as it adds to an
impressive record of generous charitable
giving.
Portal Financial was co-founded in
2009 by Jamie Smith-Thompson, then
a self-employed Independent Financial
Adviser (IFA). Now Managing Director,
he has a personal connection to Type
1 diabetes. He says, "My six-year-old
daughter has Type 1 diabetes so raising
awareness about the condition is very
personal to me. Portal Financial fundraises
for JDRF whenever we can. As an
autoimmune condition, Type 1 diabetes
is not caused or cured by diet or lack of
exercise, and serious funding is needed to
try and find a cure for it."
The latest member of the Portal
Financial team to be raising funds for
JDRF and Type 1 diabetes research is
Marketing Assistant, Claudia Hill, who will
run the 2016 London Marathon for JDRF.
This year The Lord Mayor-elect of
the City of London chose to support
JDRF in his year of office. Alderman
Jeffrey Mountevans raised money and
awareness of Type 1 diabetes in the
annual Lord Mayor's show which took
place on 14 November which was also
World Diabetes Day.
For many decades, the annual Lord
Mayor's Appeal of the City of London
has raised millions of pounds for charities
and good causes recommended by
successive Lord Mayors. Dominic
Christian, Board Director and who is
on the Lord Mayor's Appeal Board,
explained, "When my daughter was
diagnosed with Type 1 diabetes, JDRF
was there to support us every step of the
way. Being named as beneficiary for the
Lord Mayor's Appeal was an invaluable
way that we can raise awareness of T1
diabetes and more money to support our
research to cure, treat and prevent the
condition."
This was the 800th Lord mayors Show -
the first took place in 1215. T1 diabetes was
the hot topic thanks to supporters of JDRF
riding a seesaw mounted on a lorry snaking
through the historic show. Karen Addington,
Chief Executive of JDRF in the UK, said:
"We chose a seesaw because life with T1
diabetes is a constant balancing act, day
and night. People with the condition have to
manage their own blood glucose levels by
doing multiple finger-prick blood tests and
injecting the right amount of insulin every
day - just to stay alive. We want to find the
cure for T1 diabetes and help people step
off the seesaw."
BBC One's live coverage of the Lord
Mayor's Show saw 13-year-old JDRF
supporter Daisie Demicoli speak to the
nation, who said of her T diabetes, "I
have it under control but it's very difficult
to manage."
GATEWAY TO
MORE FUNDS
LORD MAYOR'S SHOW & JDRF