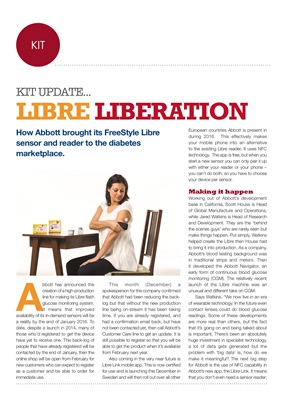 KIT
KIT UPDATE...
LIBRE LIBERATION
A
bbott has announced the
creation of a high-production
line for making its Libre flash
glucose monitoring system.
It means that improved
availability of its in-demand sensors will be
a reality by the end of January 2016. To
date, despite a launch in 2014, many of
those who'd registered to get the device
have yet to receive one. This back-log of
people that have already registered will be
contacted by the end of January, then the
online shop will be open from February for
new customers who can expect to register
as a customer and be able to order for
immediate use.
How Abbott brought its FreeStyle Libre
sensor and reader to the diabetes
marketplace.
This month (December) a
spokesperson for the company confirmed
that Abbott had been reducing the backlog
but that without the new production
line being on-stream it has been taking
time. If you are already registered, and
had a confirmation email back, but have
not been contacted yet, then call Abbott's
Customer Care line to get an update. It is
still possible to register so that you will be
able to get the product when it's available
from February next year.
Also coming in the very near future is
Libre Link mobile app. This is now certified
for use and is launching this December in
Sweden and will then roll out over all other
European countries Abbott is present in
during 2016. This effectively makes
your mobile phone into an alternative
to the existing Libre reader. It uses NFC
technology. The app is free, but when you
start a new sensor you can only pair it up
with either your reader or your phone -
you can't do both, so you have to choose
your device per sensor.
Making it happen
Working out of Abbott's development
base in California, Scott House is Head of
Research and Development while Jared
Watkins, is Head of Global Manufacture
and Operations. They are the "behind
the scenes guys" who are rarely seen but
make things happen. Put simply, Watkins
helped create the Libre then House had
to bring it into production. As a company,
Abbott's blood testing background was
in traditional strips and meters. Then
it developed the Abbott Navigator, an
early form of continuous blood glucose
monitoring (CGM). The relatively recent
launch of the Libre machine was an
unusual and different take on CGM.
Says Watkins, "We now live in an era
of wearable technology. In the future even
contact lenses could do blood glucose
readings. Some of these developments
are more real than others, but the fact
that it's going on and being talked about
is important. There's been an absolutely
huge investment in specialist technology,
a lot of data gets generated but the
problem with 'big data' is, how do we
make it meaningful? The next big step
for Abbott is the use of NFC capability in
Abbott's new app, the Libre Link. It means
that you don't even need a sensor reader;