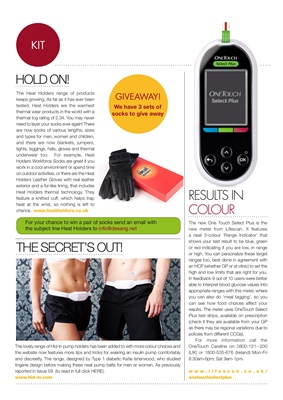 KIT
HOLD ON!
The Heat Holders range of products
keeps growing. As far as it has ever been
tested, Heat Holders are the warmest
thermal wear products in the world with a
thermal tog rating of 2.34. You may never
need to layer your socks ever again! There
are now socks of various lengths, sizes
and types for men, women and children,
and there are now blankets, jumpers,
tights, leggings, hats, gloves and thermal
underwear too. For example, Heat
Holders Workforce Socks are great if you
work in a cool environment or spend time
on outdoor activities, or there are the Heat
Holders Leather Gloves with real leather
exterior and a fur-like lining, that includes
Heat Holders thermal technology. They
feature a knitted cuff, which helps trap
heat at the wrist, so nothing is left to
chance. www.heatholders.co.uk
RESULTS IN
COLOUR
The new One Touch Select Plus is the
new meter from Lifescan. It features
a neat 3-colour 'Range Indicator' that
shows your test result to be blue, green
or red indicating if you are low, in range
or high. You can personalize these target
ranges too, best done in agreement with
an HCP (whether GP or at clinic) to set the
high and low limits that are right for you.
In feedback 9 out of 10 users were better
able to interpret blood glucose values into
appropriate ranges with this meter, where
you can also do 'meal tagging', so you
can see how food choices affect your
results. The meter uses OneTouch Select
Plus test strips, available on prescription
(check if they are available from your GP
as there may be regional variations due to
policies from different CCGs). For more
information call the OneTouch Careline
on 0800-121--200 (UK) or 1800-535-676
(Ireland) Mon-Fri 8.30am-6pm; Sat 9am1pm. Note, the Careline
cannot comment
on strip availability in your area, only on
questions to do with the meter itself.
info@desang.net="_blank" title="Visit www.lifescan.co.uk/onetouchselect">www.lifescan.co.uk/onetouchselect
For your chance to win a pair of socks send an email with
the subject line Heat Holders to info@desang.net
The lovely range of Hid-In pump holders has been added to with more colour choices and
the website now features more tips and tricks for wearing an insulin pump comfortably
and discreetly. The range, designed by Type 1 diabetic Katie Isherwood, who studied
lingerie design before making these neat pump belts for men or women. As previously
reported in Issue 59 (to read in full click HERE).
THE SECRET'S OUT!
GIVEAWAY!
We have 3 sets of
socks to give away