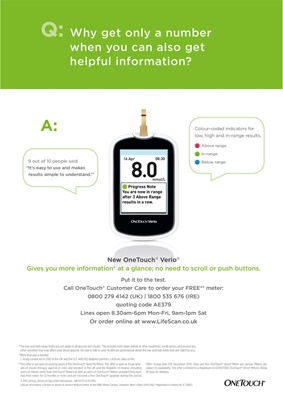 KIT
Q: Why get only a number
when you can also get
helpful information?
Put it to the test.
Call OneTouch® Customer Care to order your FREE** meter:
0800 279 4142 (UK) | 1800 535 676 (IRE)
quoting code AE379
Lines open 8.30am-6pm Mon-Fri, 9am-1pm Sat
Or order online at www.lifescan.co.uk
Colour-coded indicators for
low, high and in-range results.
Above range
In-range
Below range
New OneTouch® Verio®
Gives you more information* at a glance; no need to scroll or push buttons.
A:
9 out of 10 people said:
" It's easy to use and makes
results simple to understand."1
*More than just a number.
1. Study conducted in 2012 in the UK and the U.S. with 102 diabetes patients. LifeScan, data on file.
** This offer is not open to existing users of the OneTouch® Verio®IQ Meter. This offer is open to those who
are on insulin therapy, aged 16 or over, and resident in the UK and the Republic of Ireland, including
users of meters other than OneTouch® Meters as well as users of OneTouch® Meters provided they have
had their meter for 12 months or more and not received a free OneTouch® upgrade during this period. Offer closing date 31st December 2015. Only one free OneTouch® Verio® Meter per person. Meters are
subject to availability. This offer is limited to a maximum of 4,000 FREE OneTouch® Verio® Meters. Allow
28 days for delivery.
© 2015 LifeScan, Division of Cilag GmbH International - AW 101 071 A (15-006).
† The low and high range limits you set apply to all glucose test results. This includes tests taken before or after mealtimes, medications, and around any
other activities that may affect your blood glucose. Be sure to talk to your healthcare professional about the low and high limits that are right for you.
LifeScan UK & Ireland, a Division of Johnson & Johnson Medical Limited, Po Box 1988, Kirkton Campus, Livingston, West Lothian, EH54 0AB / (Registered in Scotland, No SC 132162)