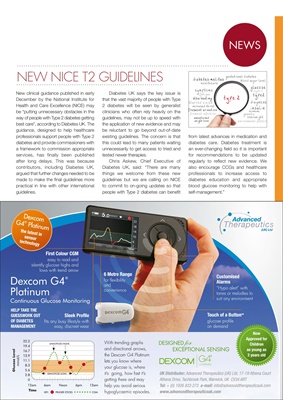 NEWS
New clinical guidance published in early
December by the National Institute for
Health and Care Excellence (NICE) may
be "putting unnecessary obstacles in the
way of people with Type 2 diabetes getting
best care", according to Diabetes UK. The
guidance, designed to help healthcare
professionals support people with Type 2
diabetes and provide commissioners with
a framework to commission appropriate
services, has finally been published
after long delays. This was because
contributors, including Diabetes UK,
argued that further changes needed to be
made to make the final guidelines more
practical in line with other international
guidelines.
NEW NICE T2 GUIDELINES
Diabetes UK says the key issue is
that the vast majority of people with Type
2 diabetes will be seen by generalist
clinicians who often rely heavily on the
guidelines, may not be up to speed with
the application of new evidence and may
be reluctant to go beyond out-of-date
existing guidelines. The concern is that
this could lead to many patients waiting
unnecessarily to get access to tried and
tested newer therapies.
Chris Askew, Chief Executive of
Diabetes UK, said: "There are many
things we welcome from these new
guidelines but we are calling on NICE
to commit to on-going updates so that
people with Type 2 diabetes can benefit
from latest advances in medication and
diabetes care. Diabetes treatment is
an ever-changing field so it is important
for recommendations to be updated
regularly to reflect new evidence. We
also encourage CCGs and healthcare
professionals to increase access to
diabetes education and appropriate
blood glucose monitoring to help with
self-management."