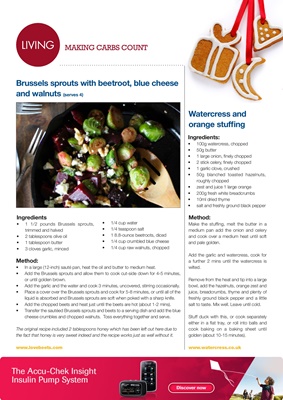 LIVINGLIVING
Brussels sprouts with beetroot, blue cheese
and walnuts (serves 4)
Ingredients
• 1 1/2 pounds Brussels sprouts,
trimmed and halved
• 2 tablespoons olive oil
• 1 tablespoon butter
• 3 cloves garlic, minced
MAKING CARBS COUNT
Method:
• In a large (12-inch) sauté pan, heat the oil and butter to medium heat.
• Add the Brussels sprouts and allow them to cook cut-side down for 4-5 minutes,
or until golden brown.
• Add the garlic and the water and cook 3 minutes, uncovered, stirring occasionally.
• Place a cover over the Brussels sprouts and cook for 5-8 minutes, or until all of the
liquid is absorbed and Brussels sprouts are soft when poked with a sharp knife.
• Add the chopped beets and heat just until the beets are hot (about 1-2 mins).
• Transfer the sautéed Brussels sprouts and beets to a serving dish and add the blue
cheese crumbles and chopped walnuts. Toss everything together and serve.
The original recipe included 2 tablespoons honey which has been left out here due to
the fact that honey is very sweet indeed and the recipe works just as well without it.
• 1/4 cup water
• 1/4 teaspoon salt
• 1 8.8-ounce beetroots, diced
• 1/4 cup crumbled blue cheese
• 1/4 cup raw walnuts, chopped
Method:
Make the stuffing, melt the butter in a
medium pan add the onion and celery
and cook over a medium heat until soft
and pale golden.
Add the garlic and watercress, cook for
a further 2 mins until the watercress is
wilted.
Remove from the heat and tip into a large
bowl, add the hazelnuts, orange zest and
juice, breadcrumbs, thyme and plenty of
freshly ground black pepper and a little
salt to taste. Mix well. Leave until cold.
Stuff duck with this, or cook separately
either in a flat tray, or roll into balls and
cook baking on a baking sheet until
golden (about 10-15 minutes).
Watercress and
orange stuffing
Ingredients:
• 100g watercress, chopped
• 50g butter
• 1 large onion, finely chopped
• 2 stick celery, finely chopped
• 1 garlic clove, crushed
• 50g blanched toasted hazelnuts,
roughly chopped
• zest and juice 1 large orange
• 200g fresh white breadcrumbs
• 10ml dried thyme
• salt and freshly ground black pepper