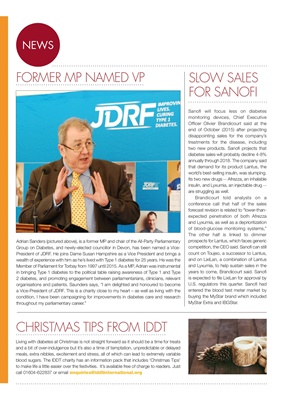 NEWS
FORMER MP NAMED VP
CHRISTMAS TIPS FROM IDDT
Sanofi will focus less on diabetes
monitoring devices, Chief Executive
Officer Olivier Brandicourt said at the
end of October (2015) after projecting
disappointing sales for the company's
treatments for the disease, including
two new products. Sanofi projects that
diabetes sales will probably decline 4-8%
annually through 2018. The company said
that demand for its product Lantus, the
world's best-selling insulin, was slumping.
Its two new drugs -- Afrezza, an inhalable
insulin, and Lyxumia, an injectable drug --
are struggling as well.
Brandicourt told analysts on a
conference call that half of the sales
forecast revision is related to "lower-thanexpected penetration of both Afrezza
and Lyxumia, as well as a deprioritization
of blood-glucose monitoring systems,"
The other half is linked to dimmer
prospects for Lantus, which faces generic
competition, the CEO said. Sanofi can still
count on Toujeo, a successor to Lantus,
and on LixiLan, a combination of Lantus
and Lyxumia, to help sustain sales in the
years to come, Brandicourt said. Sanofi
is expected to file LixiLan for approval by
U.S. regulators this quarter. Sanofi had
entered the blood test meter market by
buying the MyStar brand which included
MyStar Extra and IBGStar.
Adrian Sanders (pictured above), is a former MP and chair of the All-Party Parliamentary
Group on Diabetes, and newly-elected councillor in Devon, has been named a VicePresident
of JDRF. He joins Dame Susan Hampshire as a Vice President and brings a
wealth of experience with him as he's lived with Type 1 diabetes for 25 years. He was the
Member of Parliament for Torbay from 1997 until 2015. As a MP, Adrian was instrumental
in bringing Type 1 diabetes to the political table raising awareness of Type 1 and Type
2 diabetes, and promoting engagement between parliamentarians, clinicians, relevant
organisations and patients. Saunders says, "I am delighted and honoured to become
a Vice-President of JDRF. This is a charity close to my heart - as well as living with the
condition, I have been campaigning for improvements in diabetes care and research
throughout my parliamentary career."
SLOW SALES
FOR SANOFI
Living with diabetes at Christmas is not straight forward as it should be a time for treats
and a bit of over-indulgence but it's also a time of temptation, unpredictable or delayed
meals, extra nibbles, excitement and stress, all of which can lead to extremely variable
blood sugars. The IDDT charity has an information pack that includes 'Christmas Tips'
to make life a little easier over the festivities. It's available free of charge to readers. Just
call 01604-622837 or email enquiries@iddtinternational.orgnternational.org" target="_blank" title="Visit iddtinternational.org">iddtinternational.org