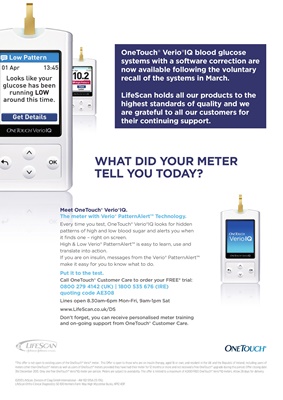 OneTouch® Verio®IQ blood glucose
systems with a software correction are
now available following the voluntary
recall of the systems in March.
LifeScan holds all our products to the
highest standards of quality and we
are grateful to all our customers for
their continuing support.
WHAT DID YOUR METER
TELL YOU TODAY?
Meet OneTouch® Verio®IQ.
The meter with Verio® PatternAlert™ Technology.
Every time you test, OneTouch® Verio®IQ looks for hidden
patterns of high and low blood sugar and alerts you when
it finds one – right on screen.
High & Low Verio® PatternAlert™ is easy to learn, use and
translate into action.
If you are on insulin, messages from the Verio® PatternAlert™
make it easy for you to know what to do.
Put it to the test.
Call OneTouch® Customer Care to order your FREE* trial:
0800 279 4142 (UK) | 1800 535 676 (IRE)
quoting code AE308
Lines open 8.30am-6pm Mon-Fri, 9am-1pm Sat
www.LifeScan.co.uk/DS
Don't forget, you can receive personalised meter training
and on-going support from OneTouch® Customer Care.
*This offer is not open to existing users of the OneTouch® Verio® meter. This Offer is open to those who are on insulin therapy, aged 16 or over, and resident in the UK and the Republic of Ireland, including users of
meters other than OneTouch® meters as well as users of OneTouch® meters provided they have had their meter for 12 months or more and not received a free OneTouch® upgrade during this period. Offer closing date
31st December 2013. Only one free OneTouch® Verio®IQ meter per person. Meters are subject to availability. This offer is limited to a maximum of 4,000 FREE OneTouch® Verio®IQ meters. Allow 28 days for delivery.
©2013 LifeScan, Division of Cilag GmbH International - AW 102 015A (13-176).
LifeScan Ortho-Clinical Diagnostics 50-100 Holmers Farm Way High Wycombe Bucks, HP12 4DP.