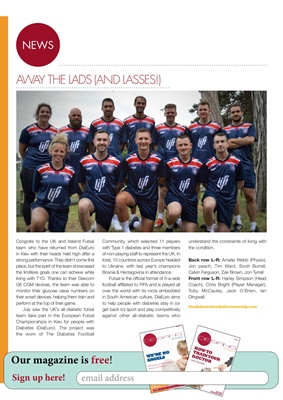 NEWS
ISSUE 30
MAGAZINE
DESANG
PLUS • New Products • Groovy giveaways • News (for T1 and T2)
WE'RE NO
ANGELS
But business as usual is best for
diabetics at Christmas
MAKING
CARBS COUNT:
CHESTNUTS ROASTING
ON OPEN FIRES
Our magazine is free!
Sign up here! email address
AWAY THE LADS (AND LASSES!)
July saw the UK's all diabetic futsal
team take part in the European Futsal
Championships in Kiev for people with
Diabetes (DiaEuro). The project has been
a part of the work of The Diabetes Football
Community, which selected 11 players
with Type 1 diabetes and three members
of non-playing staff to represent the UK. In
total, 10 countries across Europe headed
to Ukraine, with last year's champions
Bosnia & Herzegovina also making the trip.
Futsal is the official format of
5-a-side football affiliated to FIFA and is
played all over the world with its roots
embedded in South American culture.
The international DiaEuro tournament is a
futsal championship for people living with
diabetes, aims to help them get back
into sport and play competitively against
other diabetic teams who understand the
constraints of living with the condition.
thediabetesfootballcommunity.com
Back row L-R: Amelia Webb (Physio),
Jon peach, Tim Ward, Scott Burrell, Calvin
Ferguson, Zak Brown, Jon Tyrrell. Front
row L-R: Harley Simpson (Head Coach),
Chris Bright (Player Manager), Toby
McCauley, Jack O'Brien, Ian Dingwall.
BREAKING NEWS