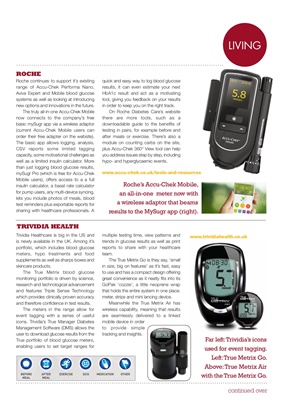 KITLIVING
continued over
TRIVIDIA HEALTH
ROCHE
Roche's Accu-Chek Mobile,
an all-in-one meter now with
a wireless adaptor that beams
results to the MySugr app (right).
Far left: Trividia's icons
used for event tagging.
Left: True Metrix Go.
Above: the True Metrix Air
with the True Metrix Go.
Trividia Healthcare is big in the US and
is newly available in the UK. Among it's
portfolio, which includes blood glucose
meters, hypo treatments and food
supplements as well as sharps boxes and
skincare products.
The True Metrix blood glucose
monitoring portfolio is driven by science,
research and technological advancement
and features Triple Sense Technology
which provides clinically proven accuracy
and therefore confidence in test results.
The meters allow for event tagging
with a series of useful icons. Trividia's True
Manager Diabetes Management Software
(DMS) allows the user to download
glucose results from the True portfolio
of blood glucose meters, enabling users
to set target ranges for multiple testing
time, view patterns and trends in glucose
results as well as print reports to share
with your healthcare team.
The True Metrix Go is they say, 'small
in size, big on features' as it's fast, easy
to use and has a compact design offering
great convenience as it neatly fits into its
GoPak 'cozzie', a little neoprene wrap
that holds the entire system in one place:
meter, strips and mini lancing device.
Meanwhile the True Metrix Air has
wireless capability, meaning that results
are seamlessly delivered to a linked
mobile device in order
to provide simple
tracking and insights.
www. trividiahealth.co.uk
Roche continues to support it's existing
range of Accu-Chek Nano, Expert and
Mobile blood glucose systems as well as
looking at introducing new options and
innovations in the future.
The truly all-in-one Accu-Chek Mobile
now connects to the company's free
basic MySugr app via a wireless adaptor
(current Accu-Chek Mobile users can
order their free adapter on the website).
The basic app allows logging, analysis,
CSV reports some limited tagging
capacity, some motivational challenges as
well as a limited insulin calculator. More
than just logging blood glucose results,
MySugr Pro, which costs £2.99 a month,
offers access to a a full insulin calculator,
a basal rate calculator for pump users,
any multi-device syncing. lets you include
photos of meals, blood test reminders
plus exportable reports for sharing with
healthcare professionals. A quick and
easy way to log of blood glucose results,
it can even estimate your next HbA1c
result. It can even act as a motivating
tool, giving you feedback on your results
in order to keep you on the right track.
On Roche Diabetes Care's website
there are more tools, such as a
downloadable guide to the benefits of
testing in pairs, for example before and
after meals or exercise. There's also a
module on counting carbs on the site,
plus Accu-Chek 360° View tool can help
you address issues step by step, including
hypo- and hyperglycaemic events.