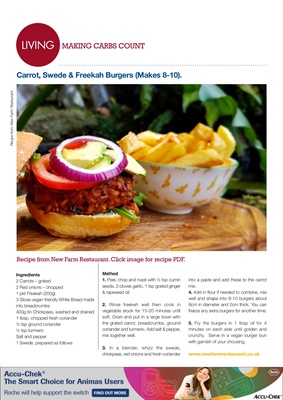 LIVINGLIVING
Recipe from New Farm Restaurant Carrot, Swede & Freekah Burgers (Makes 8-10).
Ingredients
2 Carrots - grated
2 Red onions - chopped
1 pkt Freekah (200g)
3 Slices vegan friendly White Bread made
into breadcrumbs
400g tin Chickpeas, washed and drained
1 tbsp. chopped fresh coriander
½ tsp ground coriander
½ tsp turmeric
Salt and pepper
1 Swede, prepared as follows
MAKING CARBS COUNT
Method
1. Peel, chop and roast with ½ tsp cumin
seeds, 2 cloves garlic, 1 tsp grated ginger
& rapeseed oil
2. Rinse freekeh well then cook in
vegetable stock for 15-20 minutes until
soft. Drain and put in a large bowl with
the grated carrot, breadcrumbs, ground
coriander and turmeric. Add salt & pepper,
mix together well.
3. In a blender, whizz the swede,
chickpeas, red onions and fresh coriander
into a paste and add these to the carrot
mix.
4. Add in flour if needed to combine, mix
well and shape into 8-10 burgers about
8cm in diameter and 2cm thick. You can
freeze any extra burgers for another time.
5. Fry the burgers in 1 tbsp oil for 4
minutes on each side until golden and
crunchy. Serve in a vegan burger bun
with garnish of your choosing.
Recipe from New Farm Restaurant. Click image for recipe PDF.