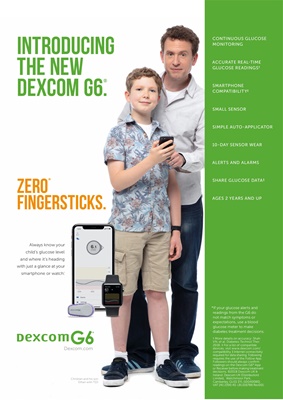 Christian and his son
Ethan with T1D
INTRODUCING
THE NEW
DEXCOM G6.
®
Dexcom.com
Always know your
child's glucose level
and where it's heading
with just a glance at your
smartphone or watch.
‡
*If your glucose alerts and
readings from the G6 do
not match symptoms or
expectations, use a blood
glucose meter to make
diabetes treatment decisions.
† More details on accuracy: Shah
VN, et al. Diabetes Technol Ther.
2018. ‡ For a list of compatible
devices, visit www.dexcom.com/
compatibility. § Internet connectivity
required for data sharing. Following
requires the use of the Follow App.
Followers should always confirm
readings on the Dexcom G6® App
or Receiver before making treatment
decisions. ©2018 Dexcom UK &
Ireland. Dexcom UK (Distribution)
Limited, Watchmoor Park,
Camberley, GU15 3YL (10040080).
VAT 241 2390 40. LBL016788 Rev001.
ZERO*
FINGERSTICKS.
CONTINUOUS GLUCOSE
MONITORING
ACCURATE REAL-TIME
GLUCOSE READINGS†
SMARTPHONE
COMPATIBILITY‡
SMALL SENSOR
SIMPLE AUTO-APPLICATOR
10-DAY SENSOR WEAR
ALERTS AND ALARMS
SHARE GLUCOSE DATA§
AGES 2 YEARS AND UP