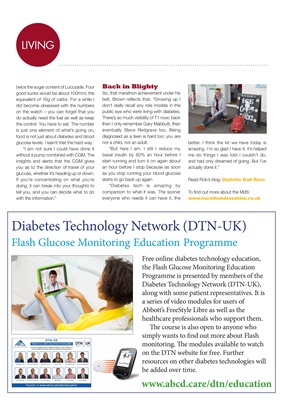 LIVINGLIVING
twice the sugar content of Lucozade. Four
good sucks would be about 100mml, the
equivalent of 16g of carbs. For a while I
did become obsessed with the numbers
on the watch - you can forget that you
do actually need the fuel as well as keep
the control. You have to eat. The number
is just one element of what's going on,
food is not just about diabetes and blood
glucose levels. I learnt that the hard way.
"I am not sure I could have done it
without a pump combined with CGM. The
insights and alerts that the CGM gives
you as to the direction of travel of your
glucose, whether it's heading up or down.
If you're concentrating on what you're
doing, it can break into your thoughts to
tell you, and you can decide what to do
with the information."
Back in Blighty
So, that marathon achievement under his
belt, Brown reflects that, "Growing up I
don't really recall any role models in the
public eye who were living with diabetes.
There's so much visibility of T1 now; back
then I only remember Gary Mabbutt, then
eventually Steve Redgrave too. Being
diagnosed as a teen is hard too: you are
not a child, not an adult.
"But here I am. I still I reduce my
basal insulin by 80% an hour before I
start running and turn it on again about
an hour before I stop because as soon
as you stop running your blood glucose
starts to go back up again.
"Diabetes tech is amazing by
comparison to what it was. The sooner
everyone who needs it can have it, the
better. I think the kit we have today is
amazing. I'm so glad I have it, it's helped
me do things I was told I couldn't do,
and had only dreamed of going. But I've
actually done it."
Read Rob's blog: Diabetic Dad Runs
To find out more about the MdS:
Free online diabetes technology education,
the Flash Glucose Monitoring Education
Programme is presented by members of the
Diabetes Technology Network (DTN-UK),
along with some patient representatives. It is
a series of video modules for users of
Abbott's FreeStyle Libre as well as the
healthcare professionals who support them.
The course is also open to anyone who
simply wants to find out more about Flash
monitoring. The modules available to watch
on the DTN website for free. Further
resources on other diabetes technologies will
be added over time.
Diabetes Technology Network (DTN-UK)
Flash Glucose Monitoring Education Programme