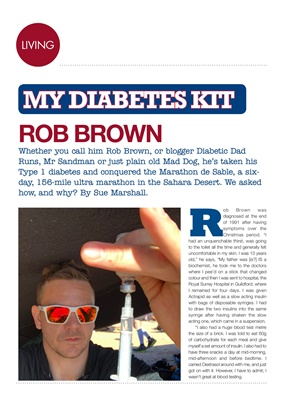 LIVINGLIVING
MY DIABETES KIT
ROB BROWN
Whether you call him Rob Brown, or blogger Diabetic Dad
Runs, Mr Sandman or just plain old Mad Dog, he's taken his
Type 1 diabetes and conquered the Marathon de Sable, a sixday,
156-mile ultra marathon in the Sahara Desert. We asked
how, and why? By Sue Marshall. R
ob Brown was
diagnosed at the end
of 1991 after having
symptoms over the
Christmas period. "I
had an unquenchable thirst, was going
to the toilet all the time and generally felt
uncomfortable in my skin. I was 13 years
old," he says, "My father was [is?] IS a
biochemist, he took me to the doctors
where I pee'd on a stick that changed
colour and then I was sent to hospital, the
Royal Surrey Hospital in Guildford, where
I remained for four days. I was given
Actrapid as well as a slow acting insulin
with bags of disposable syringes. I had
to draw the two insulins into the same
syringe after having shaken the slow
acting one, which came in a suspension.
"I also had a huge blood test metre
the size of a brick. I was told to eat 60g
of carbohydrate for each meal and give
myself a set amount of insulin. I also had to
have three snacks a day at mid-morning,
mid-afternoon and before bedtime. I
carried Dextrasol around with me, and just
got on with it. However, I have to admit, I
wasn't great at blood testing.