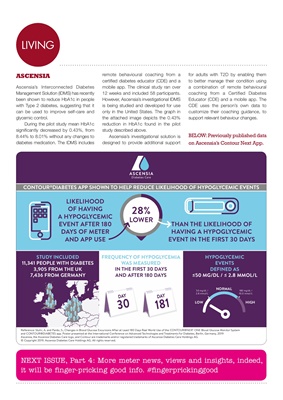 LIVINGLIVING
NEXT ISSUE, Part 4: More meter news, views and insights, indeed,
it will be finger-pricking good info. #fingerprickinggood
LIKELIHOOD
OF HAVING
A HYPOGLYCEMIC
EVENT AFTER 180
DAYS OF METER
AND APP USE
THAN THE LIKELIHOOD OF
HAVING A HYPOGLYCEMIC
EVENT IN THE FIRST 30 DAYS
FREQUENCY OF HYPOGLYCEMIA
WAS MEASURED
IN THE FIRST 30 DAYS
AND AFTER 180 DAYS
50 mg/dL /
2.8 mmol/L
180 mg/dL /
10.0 mmol/L
LOW
NORMAL
HIGH
Reference: Stuhr, A. and Pardo, S., Changes in Blood Glucose Excursions After at Least 180 Days Real World Use of the CONTOUR®NEXT ONE Blood Glucose Monitor System
and CONTOUR®DIABETES app. Poster presented at the International Conference on Advanced Technologies and Treatments for Diabetes, Berlin, Germany, 2019
Ascensia, the Ascensia Diabetes Care logo, and Contour are trademarks and/or registered trademarks of Ascensia Diabetes Care Holdings AG.
© Copyright 2019. Ascensia Diabetes Care Holdings AG. All rights reserved.
CONTOUR®DIABETES APP SHOWN TO HELP REDUCE LIKELIHOOD OF HYPOGLYCEMIC EVENTS
28%
LOWER
STUDY INCLUDED
11,341 PEOPLE WITH DIABETES
3,905 FROM THE UK
7,436 FROM GERMANY
HYPOGLYCEMIC
EVENTS
DEFINED AS
≤50 MG/DL / ≤ 2.8 MMOL/L
Ascensia's Interconnected Diabetes
Management Solution (IDMS) has recently
been shown to reduce HbA1c in people
with Type 2 diabetes, suggesting that that
it can be used to improve self-care and
glycemic control.
During the pilot study mean HbA1c
significantly decreased by 0.43%, from
8.44% to 8.01% without any changes to
diabetes medication. The IDMS includes
remote behavioural coaching from a
certified diabetes educator (CDE) and a
mobile app. The clinical study ran over
12 weeks and included 58 participants.
However, Ascensia's investigational IDMS
is being studied and developed for use
only in the United States. The graph in
the attached image depicts the 0.43%
reduction in HbA1c found in the pilot
study described above.
Ascensia's investigational solution is
designed to provide additional support
for adults with T2D by enabling them
to better manage their condition using
a combination of remote behavioural
coaching from a Certified Diabetes
Educator (CDE) and a mobile app. The
CDE uses the person's own data to
customize their coaching guidance, to
support relevant behaviour changes.
ASCENCIA