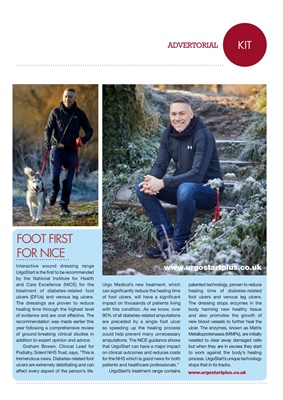 KIT
ADVERTORIAL
FOOT FIRST
FOR NICE
Interactive wound dressing range
UrgoStart is the first to be recommended
by the National Institute for Health
and Care Excellence (NICE) for the
treatment of diabetes-related foot
ulcers (DFUs) and venous leg ulcers.
The dressings are proven to reduce
healing time through the highest level
of evidence and are cost effective. The
recommendation was made earlier this
year following a comprehensive review
of ground-breaking clinical studies in
addition to expert opinion and advice.
Graham Bowen, Clinical Lead for
Podiatry, Solent NHS Trust, says, "This is
tremendous news. Diabetes-related foot
ulcers are extremely debilitating and can
affect every aspect of the person's life.
Urgo Medical's new treatment, which
can significantly reduce the healing time
of foot ulcers, will have a significant
impact on thousands of patients living
with this condition. As we know, over
90% of all diabetes-related amputations
are preceded by a single foot ulcer
so speeding up the healing process
could help prevent many unnecessary
amputations. The NICE guidance shows
that UrgoStart can have a major impact
on clinical outcomes and reduces costs
for the NHS which is good news for both
patients and healthcare professionals."
UrgoStart's treatment range contains
patented technology, proven to reduce
healing time of diabetes-related
foot ulcers and venous leg ulcers.
The dressing stops enzymes in the
body harming new healthy tissue
and also promotes the growth of
new blood vessels to further heal the
ulcer. The enzymes, known as Matrix
Metalloproteinases (MMPs), are initially
needed to clear away damaged cells
but when they are in excess they start
to work against the body's healing
process. UrgoStart's unique technology
stops that in its tracks.