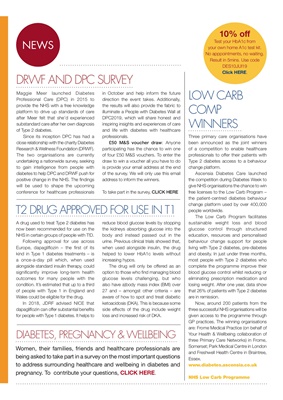 NEWS
DRWF AND DPC SURVEY
Maggie Meer launched Diabetes
Professional Care (DPC) in 2015 to
provide the NHS with a free knowledge
platform to drive up standards of care
after Meer felt that she'd experienced
substandard care after her own diagnosis
of Type 2 diabetes.
Since its inception DPC has had a
close relationship with the charity Diabetes
Research & Wellness Foundation (DRWF).
The two organisations are currently
undertaking a nationwide survey, seeking
to gain intelligence from people with
diabetes to help DPC and DRWF push for
positive change in the NHS. The findings
will be used to shape the upcoming
conference for healthcare professionals
10% off
Test your HbA1c from
your own home A1c test kit.
No apppointments, no waiting.
Result in 5mins. Use code
DES10JUl19
Click HERE.
in October and help inform the future
direction the event takes. Additionally,
the results will also provide the fabric to
illuminate a People with Diabetes Wall at
DPC2019, which will share honest and
inspiring insights and experiences of care
and life with diabetes with healthcare
professionals.
£50 M&S voucher draw: Anyone
participating has the chance to win one
of four £50 M&S vouchers. To enter the
draw to win a voucher all you have to do
is provide your email address at the end
of the survey. We will only use this email
address to inform the winners.
To take part in the survey, CLICK HERE
A drug used to treat Type 2 diabetes has
now been recommended for use on the
NHS in certain groups of people with T!D.
Following approval for use across
Europe, dapagliflozin - the first of its
kind in Type 1 diabetes treatments - is
a once-a-day pill which, when used
alongside standard insulin therapy, could
significantly improve long-term health
outcomes for many people with the
condition. It's estimated that up to a third
of people with Type 1 in England and
Wales could be eligible for the drug.
In 2018, JDRF advised NICE that
dapagliflozin can offer substantial benefits
for people with Type 1 diabetes. It helps to
reduce blood glucose levels by stopping
the kidneys absorbing glucose into the
body and instead passed out in the
urine. Previous clinical trials showed that,
when used alongside insulin, the drug
helped to lower HbA1c levels without
increasing hypos.
The drug will only be offered as an
option to those who find managing blood
glucose levels challenging, but who
also have a)body mass index (BMI) over
27 and - amongst other criteria - are
aware of how to spot and treat diabetic
ketoacidosis (DKA). This is because some
side effects of the drug include weight
loss and increased risk of DKA.
T2 DRUG APPROVED FOR USE IN T1
LOW CARB
COMP
WINNERS
Three primary care organisations have
been announced as the joint winners
of a competition to enable healthcare
professionals to offer their patients with
Type 2 diabetes access to a behaviour
change platform.
Ascensia Diabetes Care launched
the competition during Diabetes Week to
give NHS organisations the chance to win
free licenses to the Low Carb Program -
the patient-centred diabetes behaviour
change platform used by over 400,000
people worldwide.
The Low Carb Program facilitates
sustainable weight loss and blood
glucose control through structured
education, resources and personalised
behaviour change support for people
living with Type 2 diabetes, pre-diabetes
and obesity. In just under three months,
most people with Type 2 diabetes who
complete the programme improve their
blood glucose control whilst reducing or
eliminating prescription medication and
losing weight. After one year, data show
that 26% of patients with Type 2 diabetes
are in remission.
Now, around 200 patients from the
three successful NHS organisations will be
given access to the programme through
GP practices. The winning organisations
are: Frome Medical Practice (on behalf of
Your Health & Wellbeing collaboration of
three Primary Care Networks) in Frome,
Somerset; Park Medical Centre in London
and Freshwell Health Centre in Braintree,
Essex.
NHS Low Carb Programme
Women, their families, friends and healthcare professionals are
being asked to take part in a survey on the most important questions
to address surrounding healthcare and wellbeing in diabetes and
pregnancy. To contribute your questions, CLICK HERE.
DIABETES, PREGNANCY & WELLBEING